This article was contributed by James Davis with Future Money Trends.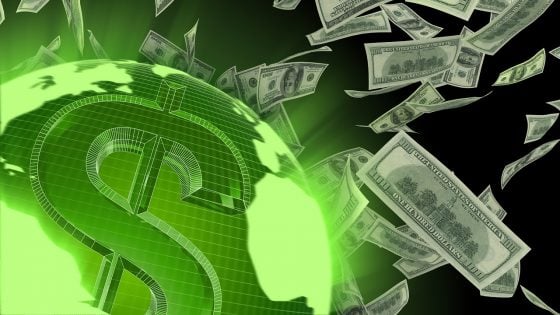 Do you think Donald Trump is going to win or do you think it's Biden? Whatever your answer is, MY RESPONSE remains the same: MARKETS are headed M-U-C-H H-I-G-H-E-R!
The amount of cash on the sidelines that's EARNING NOTHING is just SO EXAGGERATED that we expect that another $1tn to $1.5tn is HEADING BACK to the stock market and risk assets.
Treat this pandemic AT FACE VALUE: highly contagious and lethal only to a very small percentage of the population.
The media has convinced some people that they're living THROUGH END TIMES, but I implore you to shake it off and THINK FOR YOURSELF now that you KNOW the facts. You should be protecting your OWN FAMILY and your OWN CAREER from imminent danger and FINANCIAL RUIN from DRACONIAN measures being implemented.
Wake up!
This is a giant wealth transfer; the ramifications of what just happened to the world in the past few months are yet TO BE DETERMINED. I will not be doing you a disservice by encouraging you to GET INSPIRED to get on with your life IMMEDIATELY.
The markets believe they've FIGURED IT OUT; they're betting on a BIDEN VICTORY and a massive stimulus package that will offset the tax hikes and all the increased regulations that will SURELY COME with a Democrat victory; they believe America has HAD ENOUGH of Trump, but I'm not convinced it's that cut and dry.
I'll crawl over broken glass to make sure you TRULY UNDERSTAND that there's a BULL MARKET going on, no matter HOW UNLIKELY or how weird it is to put MONEY TO WORK.
You don't ALWAYS have to understand why prices are rising, but you SURE AS HELL must have seen the gains that we've BEEN MAKING – they're off the charts!
Your heart will tell you when TO MOVE. Your fate has NOTHING TO DO with this election; the country's future has a lot TO DO with it, but you have to SEPARATE FROM THE HERD – are you ready to accept BETTER CONDITIONS?
Entire industries, whole economies, great nations, and giant corporations will be built as a result of this COVID-19 WORLD; take what's yours and STOP AT NOTHING.
Be a dreamer.