This article was originally published by Mary Villareal at Natural News.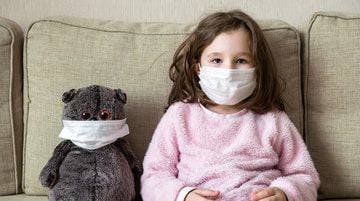 Colette Martin, a practicing nurse from Louisiana, testified in front of the Health and Welfare Committee hearing in December, saying that children have terrifying reactions to the Wuhan coronavirus (COVID-19) vaccine. She noted that children are at risk for potentially life-long health problems such as myocarditis, but her concerns have been dismissed.
Hospitalizations have been skyrocketing in children who received their vaccine shots, despite being too young. Children admitted inwards with COVID-19 soared in recent weeks, with pediatric hospitalizations at their highest rates compared to any prior point in the pandemic.
While the overall hospitalization rate among children and teens is still lower than any other age group, they do account for around five percent of average new daily hospital admissions.
As of Tuesday, the average number of under-18 patients admitted to the hospital per day rose to 766, double the figure reported just two weeks ago.
Martin stated that people are potentially sacrificing children for fear of maybe dying or getting sick of a virus that has a 99 percent survival rate for healthy individuals. She also stated that more children have died from the COVID-19 vaccine than COVID itself.
Moreover, she believes that hospital treatment protocols are killing COVID patients. Doctors in hospitals agree that the treatments are not working, but that it's all they had, even though it is technically what the Centers for Disease Control and Prevention will allow them to give.
Vaccinated children at risk of permanent damage
Children, in particular, are at risk for potentially life-long health problems, with myocarditis emerging as one of the most common, especially among boys and young men.
In September 2021, a team of researchers posted an analysis of VAERS data that showed more than 86 percent of children ages 12 to 17 reported symptoms of myocarditis severe enough to require hospitalizations.
The researchers found that cases of myocarditis explode after the second shot, and disproportionately affect boys. Despite this, few doctors are willing to talk about it.
A paper on myocarditis that has since been taken down also showed that it is inversely correlated to age, so younger individuals have a higher risk. It is also dose-dependent, with boys having six times greater risk of contracting myocarditis after the second dose.
Excess deaths also keep rising. In the week ending November 12, 2021, for instance, the U.K. reported 2,047 more deaths occurring in that same period between 2016 and 2019. (Related: Merck's Combination Children's Vaccine Linked to Convulsions.)
While COVID-19 cannot be to blame entirely, it was listed on the death certificates for over 1,000 people. What is telling, however, is that non-COVID deaths have also been higher than the weekly average in the five years before the pandemic: heart diseases and strokes appear to be the reasons for excess deaths, and both are known side effects of the COVID vaccine.
VAERS reports massive numbers of adverse effects and deaths
Jessica Rose, a research fellow at the Institute for Pure and Applied Knowledge in Israel said that the average number of adverse event reports following vaccination has been around 39,000 annually, with an average of 155 deaths for all vaccines combined, however, the COVID jabs account for nearly a million adverse event reports as of December 17, 2021, including over 20,000 deaths, not including the underreporting factor, which is significant and likely raging from five to 40 times higher than the actual reported numbers. (Related: Excess mortality in UK children observed after vaccine rollout… the shots appear to be causing children to die.)
The Food and Drug Administration and the CDC have also ignored standard data analyses that can shed light on causation. In the case of COVID jabs, 50 percent of deaths occur within 48 hours of injection, and it is not conceivable that over 10,000 people died two days after the shot from something other than the vaccine itself: it is not pure coincidence, especially as so many of them were younger with no underlying lethal conditions that threaten to kill them at any given time.
Watch the video below for more information about vaccine injury and death: