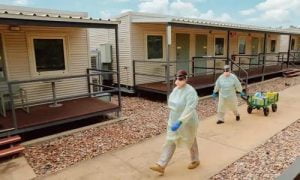 As it turns out, people don't really seem to be enjoying their slavery anymore. In Australia, people are attempting to escape the modern-day concentration camps, otherwise known as COVID-19 quarantine camps.
Australian police have arrested three people who escaped a Covid-19 quarantine compound near Darwin in the Northern Territory. They had all tested negative the day before they broke out.  This is incredibly disturbing, and any law enforcement official or military member "just following orders" is going to go down in history similarly as the Nazis.
On Wednesday, police alleged that three people had scaled the perimeter fence of the compound in order to break out of the facility situated near Darwin in the Northern Territory, according to a report by RT.  Police say the trio escaped the concentration camp called Centre for National Resilience just before 4:40 am.
Officers had set up checkpoints and were inspecting cars in the area in an attempt to find the absconders. The three were swiftly caught and taken into custody.  "Police and staff at the Centre for National Resilience are currently confirming the absconder's identities prior to releasing further information," authorities stated.
The Howard Springs site can hold up to 2,000 people; it is situated within an old mining camp which was turned into a quarantine center by the Australian government in August.

The three individuals arrested had tested negative for Covid-19 on Tuesday. -RT
Then another person attempted to escape the concentration camp on Friday. According to reports, a 27-year-old man scaled the facility's perimeter fence and jumped into a waiting car. He was later arrested but tested negative for Covid-19.
This is obviously not about COVID-19 or any other cold or flu.  This is about complete compliance. Those who resist further enslavement are going to be punished.
Harsh Penalties Coming For Those Who Refuse To Be "Vaccinated" In Austria
Humans have learned little from history. It's time to stop believing in the lie of authority or that anyone has any right to rule over anyone else. This all starts with us and in our own minds.  Until we realize we have no obligation to obey and stand together, they will continue to round people up for not being good enough slaves.