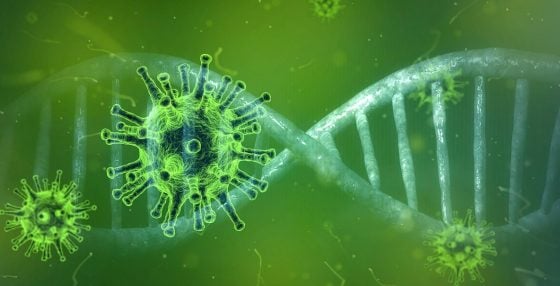 Researchers in China say preliminary research shows that COVID-19 is mutating and there are at least two types of the virus now. One of those, the more aggressive strain, has infected 70% of the people tested for the virus.
According to doctors at Peking University's School of Life Sciences and the Institut Pasteur of Shanghai, a less aggressive strain of the virus has infected the other 30% of those who have contracted COVID-19. Scientists have called the aggressive strain "L type" and the less prevalent version "S type." The L type strain was seen more frequently in Wuhan, where the outbreak began, but researchers note that the frequency of infection has dropped off. They also cautioned that the data they had available for study was "very limited"  and they still don't fully understand the evolution of this virus.
Forbes reported that more testing and studies are needed to get a grasp on the change this virus is making to keep itself alive and replicate. The scientists also stated that we can likely expect more mutations of this virus.
"Whereas the L type was more prevalent in the early stages of the outbreak in Wuhan, the frequency of the L type decreased after early January 2020," they wrote. "Human intervention may have placed more severe selective pressure on the L type, which might be more aggressive and spread more quickly."

"These findings strongly support an urgent need for further immediate, comprehensive studies that combine genomic data, epidemiological data, and chart records of the clinical symptoms of patients with coronavirus disease 2019 (COVID-19)," they wrote.

Researchers say the different strains were likely caused by a mutation of the ancestral version of the virus. And that could mean more are coming. They urged the scientific community to come together to battle and contain the outbreak. –Forbes
The only way to "battle" a virus would be to prevent it's spread if you have it (by people aren't showing symptoms for over 14 days with this one) or prevent yourself from contracting it.
Will A Face Mask REALLY Protect You From The Coronavirus?
Here and there, masks have been popping up again for sale. They are still a little bit difficult to come by but we will attempt to keep finding them.  Most of the 30-day food supply kits have sold out at online retailers, but there are a few larger 4-month kits, as well as some smaller 4-day kits.
Make sure you've done an audit of your first aid kit, ensuring everything is in working order and you've added any over the counter and prescription medications you might need.  Shortages of those in the event of a mutation that takes out entire stores won't be fun.
HOW TO PREPARE YOUR HOME (QUARANTINE) FOR A PANDEMIC
It seems that people have finally started preparing, but is it too little too late now that we know the virus has already mutated?