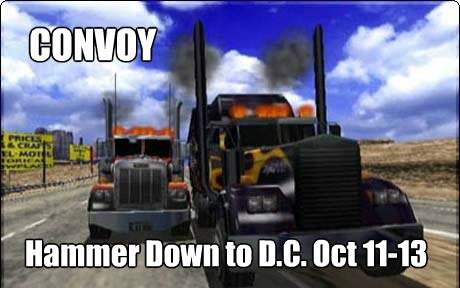 Last year the American Truckers Association prepared a report for Congress highlighting the susceptibility of the nation's just-in-time delivery system, the majority of which is made possible by the transport and delivery of freight. In the event of a catastrophic disaster such as a war that drives fuel prices through the roof or even a natural disaster such as a solar flare that renders electronic trucks inoperable, there would be a "a swift and devastating impact on the food, healthcare, transportation, waste removal, retail, manufacturing, and financial sectors," according to the report.
The backbone of commerce in the United States are the truck drivers who spend long hours on the road ensuring our very survival as a modern society.
But with fuel prices continuing to rise, wages dropping, jobs becoming harder to find, and rampant corruption in Washington D.C. furthering the country's economic death spiral, America's truck drivers, like the majority of our fellow citizens, are fed up.
Between October 11th and 13th they have called for a general strike, asking truck drivers around the country to refuse to haul freight, a move that could carry with it a significant impact on the American economy.
The protest calls for truckers to make their way to Washington D.C. in a massive convoy in an effort to call attention to, among other things, the Benghazi cover-up, the recent attack which killed 25 members of Seal Team 6, ever rising fuel prices, and claims that President Obama has engaged in treasonous crimes.
Moreover, they've requested that the American people join them in solidarity by not shopping or engaging in any economic activity that benefits the government or their corporate interests.
The American people are sick and tired of the corruption that is destroying America! We therefore declare a GENERAL STRIKE on the weekend of October 11-13, 2013! Truck drivers will not haul freight! Americans can strike in solidarity with truck drivers!

…

Breaker 1 9 calling on all Trucker to shut America down for three days October 11-13. The American people are bleeding out with no relief in sight, It is time to change the NEWS. Let us show our elected officials that we are 100% fed up with corruption and the blatant disregard of the Constitution that they swore to defend.

Bob tail it hammer down to the bull$hit city with flags flying high.

…

My fellow Patriot this effort is to support the truckers in a major shut down of America ion a 3 day strike October 11th thru 13th.

Obamacare will be in effect and most people will be ready to take action. No commerce on those days stock up on items that you will need. No banking no shopping no money transactions. It does not matter If a million or 50 roll through DC in this effort. Congress will listen to We The People. Which is remove Obama from office for crimes of treason and misdemeanors. We want Congressional hearing on Benghazi and Seal Team 6. Louis Learner put in jail. No amnesty, remove all Muslims in our government that do not uphold the Constitution. Remove Eric Holder from office for crimes against the people and the Constitution. Last but not least is Fuel prices.
The protest comes on the heels of a massive biker rally held in Washington D.C., and other grass roots efforts to hold the government to account for various Constitutional transgressions including everything from stripping Americans of their right to bear arms, to forced health care mandates soon to be implemented across the country (with exemptions for members of Congress and corporations with insider access, of course).
Calls of accountability have grown louder over the years from all political sides, starting most notably with the Tea Party movement and progressing to Occupy Wall Street.
The corruption and need for real change in America's government has transcended political lines.
If the hundreds of thousands of truckers across America who keep our delivery systems running efficiently were to join together and stop hauling freight for even a week, the impact would be devastating and could not be ignored.
There'd be no food on the shelves, no fuel at our gas stations, and no medical supplies at our pharmacies and hospitals.
Congress and the President, who would like nothing more than to be perceived as our saviors and benefactors, would have no choice but to address the concerns of freight haulers, because the American people would feel the effects of the protest directly. And, chances are they'd be in the streets protesting themselves because of lack of access to essential goods they can't live without.
We may often feel as if we, as individuals, have no power against the mighty United States government, but as Karl Denninger points out, we have much more power than we think.
If we get just 10% of America on board the entire game changes.

Especially when the business world — and government — realize that the next one is Black Friday weekend.
Just 10% of Americans can change the course of history, much like they did during the Revolutionary War.
Whether it happens in October, during Black Friday sales this November, or at some point in the future, this seemingly untenable situation is coming to a head.
Robert Kennedy may have said it best:
A revolution is coming — a revolution which will be peaceful if we are wise enough; compassionate if we care enough; successful if we are fortunate enough — But a revolution which is coming whether we will it or not. We can affect its character; we cannot alter its inevitability.

Robert Kennedy
Senate Floor
May 9, 1966
The snowball in America continues to roll down the hill, gaining speed and mass.