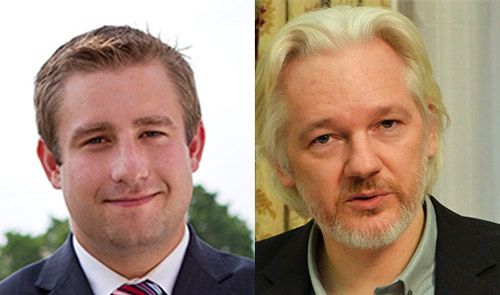 In July of 2016 high level Democratic National Committee staffer Seth Rich was killed on the streets of Washington, D.C. 
Police investigators say that Rich was killed in a robbery, but skeptical investigative reporters across the internet began to look into the suspicious circumstances surrounding his murder almost immediately.
The early morning killing on a deserted D.C. street came amid a storm of leaks and hacks involving DNC emails that showed collusion between Democratic Party heads and the Clinton campaign. As well, Clinton herself was under extreme pressure surrounding leaked disclosures about her physical health, scandals involving Clinton Global Initiative pay-to-play schemes and an unsecured email server that may have exposed classified information.
That there were no suspects and no motive in Rich's death immediately raised questions. As outlandish as it may have sounded, the combative political climate at the time led many to ask whether or not the rising Democratic Party star was eliminated because he either knew too much, was sharing information with Wikileaks, or both.
Adding fuel to the fire, in August Julian Assange himself alluded to the fact that Seth may have been the secret source that had leaked gigabytes of data to Wikileaks, a move that would have surely created many enemies in the billion dollar-plus election campaign.
Host: That was just a robbery wasn't it?

Assange: No. There's no finding.

Host: What are you suggesting?

Assange: I am suggesting that our sources take risks and they become concerned to see things occurring like that.

Host: But was he one of your sources, then?

Assange: We don't comment on who our sources are.

Host: But why make the suggestion?

Assange: Because we have to understand how high the stakes are in the United States and that our sources face serious risks… that's why they come to us so we can protect their anonymity.

Host: But it's quite something to suggest a murder… that's basically what you're doing.
Naturally, the story was dismissed as conspiracy theory and written off by the mainstream media. Officially, Seth Rich died in a robbery.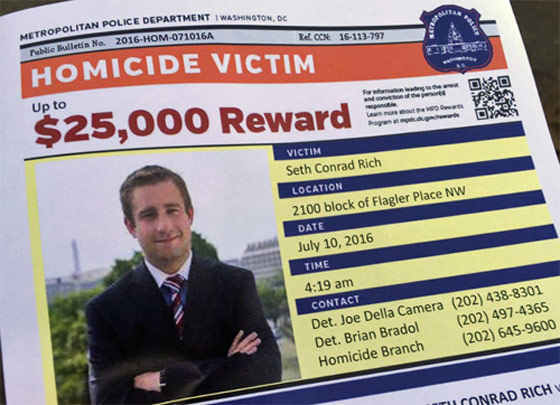 But as DrudgeReport.com highlights via a Fox 5 DC exclusive report, the Rich family was not convinced of the official story.
They turned to private investigator Rod Wheeler to look into the case.
What they found is nothing short of shocking.
It appears that police investigators were told to stand down from the case, despite the fact that no real investigation ever took place. According to Wheeler, there is tangible evidence tying Rich directly to Wikileaks, and it may be sitting on Seth's personal laptop, which is reportedly being held at either the D.C. police department or the FBI.
Such an implication would be shocking and would suggest that multiple high level players with something to lose as a result of the leaked disclosures may have been involved.
"The police department nor the FBI have been forthcoming," said Wheeler. "They haven't been cooperating at all. I believe that the answer to solving his death lies on that computer, which I believe is either at the police department or either at the FBI. I have been told both."

When we asked Wheeler if his sources have told him there is information that links Rich to Wikileaks, he said, "Absolutely. Yeah. That's confirmed."

Wheeler also told us, "I have a source inside the police department that has looked at me straight in the eye and said, 'Rod, we were told to stand down on this case and I can't share any information with you.' Now, that is highly unusual for a murder investigation, especially from a police department. Again, I don't think it comes from the chief's office, but I do believe there is a correlation between the mayor's office and the DNC and that is the information that will come out.

Via Fox 5
Wheeler indicated that further details will be release, perhaps as early as Tuesday
Related:
Julian Assange Suggests MURDERED DNC STAFFER Seth Rich Was Wikileaks Source: "We Have To Understand How High The Stakes Are In the United States"
Suspicious? DNC Staffer in Charge of 'Voter Expansion Data' Murdered in D.C.