This article was originally published by Joshua Krause at The Daily Sheeple.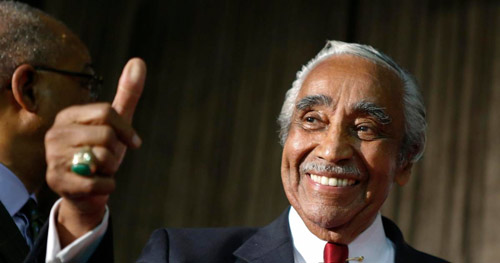 There are millions of Americans who want to restrict firearm ownership and use by one degree or another. While you may disagree with those people, at least they're consistent. For the most part, die-hard gun grabbers don't own firearms, and have probably never even held a gun before. They're not hypocrites, unlike the handful of politicians and celebrities who often lead them.
It's been pointed out by Second Amendment supporters for years, that the wealthy and famous liberals who say they hate gun so much, are typically flanked by professionally trained and armed security guards at all times. They tell us that we don't need firearms to protect ourselves, while they go about their lives constantly surrounded by firearms.
Unfortunately, this hypocrisy is rarely challenged in person. These people are singled out by pro-gun activists over and over again, but nobody with a microphone or a video camera has had the opportunity to question these elites over their blatant hypocrisy. We've never seen the right reporter with the right questions, get close enough to one of these high profile anti-gun crusaders. Clearly, having a squad of armed guards has plenty of perks for people who don't like to explain themselves.
Fortunately, it has finally happened. An anti-gun politician has finally been put on the spot over this matter. Democratic Representative Charlie Rangel spoke to the Daily Caller on Tuesday, in regards to a recent scandal involving four NYPD officials who were arrested for accepting bribes in exchange for police escorts and gun licenses, among other perks.
When asked by The Daily Caller his thoughts on the difficulty of getting a concealed carry permit in New York City and how rare it is for such permits to be issued by the NYPD, Rangel replied, "I'm glad to hear you say that very few people get it."

"We don't need that many guns," he continued. "I didn't know that briberies were involved in getting a gun, and that is wrong, but overall, if it is difficult to get a concealed weapon permit, I'm glad to hear that."
Rangel went on to say that his own law-abiding constituents in Harlem shouldn't have to carry guns for their own protection. However, the same rules don't apply to the political elite.
"Law-abiding citizens just shouldn't have to carry a gun. You're not gonna push me in that direction," he said, standing just five feet from a Capitol Police officer, who stood at his post by the House Speaker's Lobby.

TheDC noted to Rangel he and other members of Congress are protected by armed members of the U.S. Capitol Police.

"Well that's a little different.  I think we deserve–I think we need to be protected down here." Rangel laughingly insisted.
Rangel never bothered to explain why average citizens shouldn't be armed in public, while members of his protected class are exempted. That's because there isn't a good explanation. There's no way for a politician like Rangel to argue that people don't need guns without sounding like an out of touch elitist.
You've got to love how he says that he 'deserves' protection before quickly correcting himself. This is the mindset of the political elite. They deserve to be protected with firearms. The people who have our legal rights in their hands, believe that they are better than the rest of us, who are mere children that can't be trusted with guns. We all knew that this was the case, but it's satisfying to hear people like Charlie Rangel admit to that fact in so many words.
Delivered by The Daily Sheeple
We encourage you to share and republish our reports, analyses, breaking news and videos (Click for details).
---
Contributed by Joshua Krause of The Daily Sheeple.
Joshua Krause is a reporter, writer and researcher at The Daily Sheeple. He was born and raised in the Bay Area and is a freelance writer and author. You can follow Joshua's reports at Facebook or on his personal Twitter. Joshua's website is Strange Danger .