This article was contributed by Tom Beck of Portfolio Wealth Global.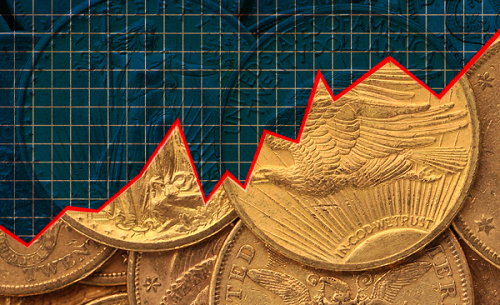 JUST NOW, America is starting to grapple with the ENORMOUS TRAVESTY that it has still yet to face in the months ahead.
Up until now, there was MISPLACED HOPE that this could all be just seasonal flu and there were BAILOUTS and helicopter money to help float the losses a while longer, until re-opening, but that bubble is popping; coronavirus is here to stay in our lives. For most, it won't be a health issue, but more of a lifestyle/financial one.
From here on, it's PURE PAIN, as we all adjust our lives to this. I hate to say it, but the numbers SPEAK FOR THEMSELVES:
April retail sales collapsed to record lows, on a month-to-month basis.
April industrial production plunged by 11.2%, which is the worst month-to-month drop since 1919.
Capacity Utilization collapsed to a record low 64.9%, which means that America's GDP is falling off a cliff right now!
We have NEVER SEEN anything like this; it's the price of SHUTTING DOWN the economy and of social distancing. It's the price of re-arranging the lives of billions of people.

My biggest concern is that the consumer polls show that their outlook is PESSIMISTIC, which means that whatever the private sector leaders and government do in the days ahead, IT BETTER BE FAST and it better be CORRECT.
We are past the point of making errors.
People's livelihood, dignity, future prospects, mental health, physical health, and peace of mind are at stake.
Do not wait for the government; whatever you do, strike out of your calculations the aid you will receive – think of it as the cherry on top, but don't use it to make financial decisions. If you need additional income sources, FIGURE IT OUT fast. There are many ways to earn an extra $100-$300 a month online, starting this second.
We will continue to see central banks monetizing debt; we will continue to see GOVERNMENT BONDS issued at a larger scale than what the central banks can buy – this is the GOURMET RECIPE for gold to reach new highs, above $2,000/ounce.
Newmont Mining, Barrick Gold, Yamana Gold, Equinox Gold, Alamos Gold and MANY OF THE OTHER world-class gold companies are trading at or NEAR all-time highs!
All of the above are COMPONENTS of the GDX index and some are also listed on the GDXJ index as well. We are part of the breakout and making GREAT RETURNS.
These indices are a ONE-STOP shop to trade in the sector. They are both the equivalents of the S&P 500 or the Russell 2000 indices for traditional stocks.
Gold is in a BULL MARKET!
In the past weeks, silver has been closing the gap.
These are the telltale signs of IMPROVING CONDITIONS for the sector, in general.
In the past few years, since 2016, owning a basket of gold stocks, like the GDX, or owning the top-quality miners, has been WILDLY PROFITABLE.
Investors have ignored mining stocks, though. The sector is UNDER-WEIGHTED in most portfolios.
20 years ago, investors also WERE IN LOVE with the tech giants and with innovation, in general – as they are today.
Many of these companies are INCREDIBLE success stories, but we have to remember that the timespan it takes to get a mine from discovery to production now approaching TWO DECADES, peak gold is REAL.
Companies that own PROVEN, VERIFIABLE resources, both Measured & Indicated and even Inferred, are sitting on VALUABLE REAL ESTATE for these giants mentioned above, who are ready to make ACQUISITIONS.
Other commodities, which are essential to our everyday lives, are also reaching peak production.
When the industry is making big profits, the giants bid for the quality juniors.
The time to position IS NOW!
EXCLUSIVE REPORTS, Featured In This Article and in Others, Which Are Considered ESSENTIAL READING: