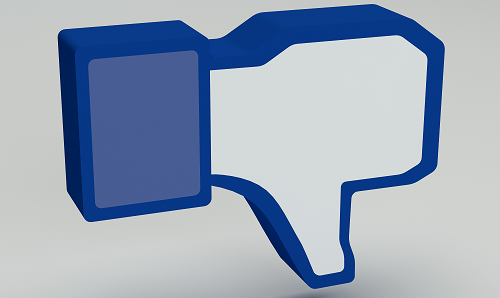 Adding to the seemingly endless amount of fuel stoking the #deleteFacebook furor is the newest social media privacy violation, and this one's a big one. Facebook has confirmed that they store phone call and text data from all of their Android users.
Facebook confirmed Sunday that it has been keeping texting and call logs for millions of people who use Android phones to access Facebook Messenger, adding to a growing backlash over how the company handles the user data that drives its record-setting profits.
Ever since news broke that data firm Cambridge Analytica had been abusing the Facebook platform to download unauthorized data on over 50 million users, users have been downloading their own Facebook data to see just how much the social network knows about them. Couple this with the fact that Facebook and YouTube have been harshly censoring voices that disagree with the liberal and Communist agenda, and you've got a major problem if you're the social media giant.
One person who took the time to download his data that Facebook stored on him was developer Dylan McKay, who posted last week that his file appeared to show a call log of every single call he'd made for the past few years. The data included who the call was to or from, the date, time and duration. The calls were not made using Facebook or one of its apps, they were just the calls he'd made on his phone.
Downloaded my facebook data as a ZIP file

Somehow it has my entire call history with my partner's mum pic.twitter.com/CIRUguf4vD

— Dylan McKay (@dylanmckaynz) March 21, 2018
As the tweet went viral, other users replied that they were seeing their same call history recorded in the data. Is it really any wonder why people are deleting their Facebook accounts in droves? Facebook attempted to downplay this massive abuse of privacy rights by saying the users who had their data stored "opted in" voluntarily.
"Call and text history logging is part of an opt-in feature for people using Messenger or Facebook Lite on Android," the company wrote. "This helps you find and stay connected with the people you care about and provides you with a better experience across Facebook." Once this feature is enabled, the Messenger app begins "to continuously upload your contacts as well as your call and text history."
Facebook also stressed it didn't sell the data and doesn't record the text messages or the audio of the calls themselves. They simply keep a record. When logging into Facebook messenger, this is the screen that gives the app permission to store your calls and text messages looks like this: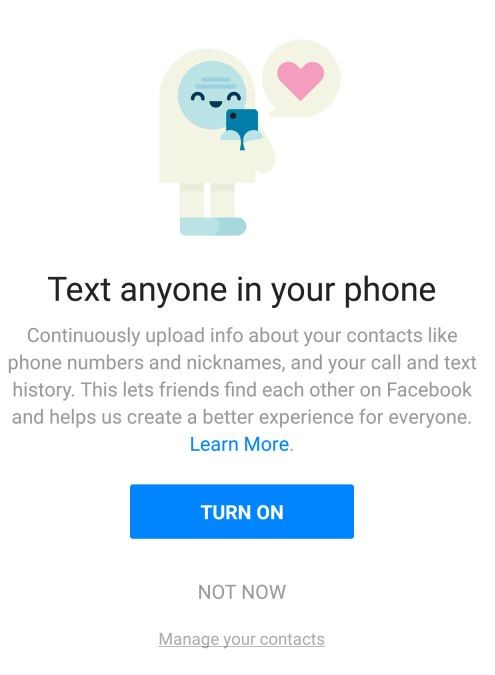 Facebook didn't give an exact number of affected users, but the statistics speak clearly and terrifyingly for themselves. There are over 1.2 billion Facebook Messenger users as of 2017. The Android operating system dominates the smartphone market, capturing over 80 percent of market share. iPhone users do not appear to have been affected by this feature at this time, but iPhone has had its own issues with privacy before that shouldn't be ignored.
According to NBC News, many experts claim that storing text and call log information is not a common feature for most apps.  "It's very unusual for apps to collect call log data since the vast majority of them have no clear purpose in doing so," said Jason Hong, an associate professor of computer science at Carnegie Mellon University, who studies app privacy. Hong also said Facebook may have been doing it to help with "friend recommendations" or to better calculate which friends should appear in your feed, but that doesn't make it any less a privacy violation.
Explanations such as these aren't likely to win back the trust of users still reeling from revelations that a data firm with a link to the Trump campaign used a specially designed app to trick users into giving up two dozen points of data about their friends and that Facebook allowed the Obama administration to flat-out break the rules because they agreed with the left ideologically.
The government is already keeping and storing all of our conversations and texts anyway. Do we really need Facebook to do the same?