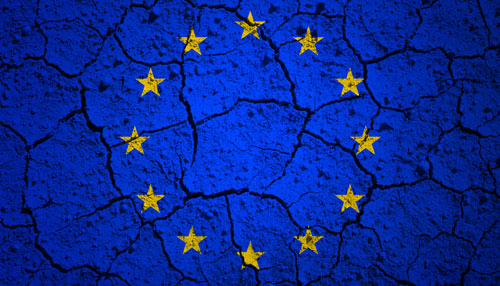 Data released on Monday showed that industrial production throughout the entire eurozone dropped sharply to a glacial pace of growth in the continent at the end of 2018. Not only that, but two of the four largest economies in Europe are now on the brink of recession.
Economic data in China, the globe's second-largest economy is showing significant signs of slow down while the trade war with the United States rages on.  According to the San Francisco Gate, the United States government shutdown is doing damage to the economy as well, however, most evidence points to the fact that government is unnecessary and private companies and individuals fill the voids.
As economists, investors, and policymakers focus intently on what's going on in the US and China, there's another major economic crisis brewing.

This time, it's in Europe, where growth has slowed practically to a standstill, and two of the continent's four biggest economies, representing a total GDP of more than $5.5 trillion, are on the brink of, or already in, recession. –SF Gate
https://www.shtfplan.com/headline-news/the-trade-war-goes-on-and-the-united-states-could-lose_01082019
Eurostat, the EU's statistical authority said on Monday that industrial production fell by 1.7% between October and November last year. "The numbers bode ill for GDP in Q4," Andrew Kenningham, the chief Europe economist at Capital Economics, said in a note to clients. "While the eurozone may have eked out a small increase in GDP in Q4, it has clearly shifted down a gear. And there is little reason to expect a sharp rebound in 2019."
Business Insider predicts that when official data about economic growth is released in March, both Germany and Italy will almost certainly have fallen into technical recessions, defined as two consecutive quarters of negative growth. Germany is the Eurozone's largest economy while Italy is the fourth largest. France is also experiencing economic hardships.
https://www.shtfplan.com/headline-news/french-yellow-vest-protesters-urge-supporters-to-spark-bank-run-with-mass-withdrawals_01112019
"Germany likely was in recession in H2 2018 … Yesterday's manufacturing data in Germany provided alarming evidence of a much more severe slowdown in the second half of last year than economists had initially expected," Claus Vistesen, the chief eurozone economist at research house Pantheon Macroeconomics said, according to a report by Business Insider. 
Andrew Harker, an associate director at IHS Markit, which compiles PMI, said last week that it was a "worrying end to the year for Italian manufacturers, with firms continuing to struggle to secure new business. This is in marked contrast to the start of 2018 when the sector was experiencing strong growth. Moreover, with business confidence at a six-year low, there appears little sense of optimism that the current soft patch will come to an end in the near future," he added.