This article was originally published by Michael Snyder at The End of the American Dream.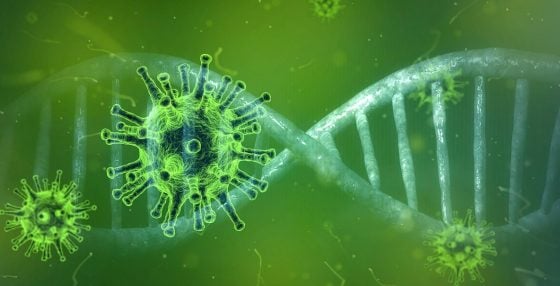 The more scientists study this new coronavirus, the more alarming it becomes.  When this outbreak first emerged, officials told us that it was very unlikely that it could be transmitted from human to human.
When that was shown to be obviously wrong, officials started claiming that human to human transmission would be "limited" as we saw during the SARS epidemic.  Of course, that was completely wrong too, and now we know that this new coronavirus actually spreads like wildfire among human populations, and that is because it is much different from the SARS virus.  In fact, brand new research conducted by scientists at the University of Texas at Austin has discovered that this coronavirus "is up to 20 times more likely to bind to human cell receptors"…
The deadly new coronavirus is up to 20 times more likely to bind to human cell receptors and cause infection than severe acute respiratory syndrome (Sars), a new study by researchers at the University of Texas at Austin has found.

The novel coronavirus and Sars share the same functional host-cell receptor, called angiotensin-converting enzyme 2 (ACE2).
According to this new study, the "high affinity of 2019-nCoV S for human ACE2 may contribute to the apparent ease with which 2019-nCoV can spread from human to human", and that statement should definitely send a chill down your spine.
The speed with which this virus spreads has been absolutely stunning, and the latest numbers that we have indicate that it has a reproduction rate which is almost unprecedented.  The following comes from Natural News…
The reproduction rate (R0) of the Wuhan coronavirus (CoVid-19) – meaning the number of other people that one infected person could potentially spread it to – has been steadily rising over the past several months. Early on, it was in the 1.0-2.0 range. Then, it changed to as high as 6.6. Now, the latest science says we've breached 7.05.

What this means is that one infected person could spread the Wuhan coronavirus (CoVid-19) to seven other people, who could then each spread it to seven other people themselves. In other words, one infected person infects seven other people, who then collectively infect 49 other people, who then infect 343 other people, who then infect 2,401 people, and on and on it goes.
And even if you get this virus and eventually recover, there is a chance that you could get it again fairly quickly…
Li QinGyuan, director of pneumonia prevention and treatment at China Japan Friendship Hospital in Beijing, said a protective antibody is generated in those who are infected.

"However, in certain individuals, the antibody cannot last that long," Li said. "For many patients who have been cured, there is a likelihood of relapse."
Needless to say, all of the information that I have just shared with you is really bad news.
This is an exceedingly dangerous virus, and the potential for a horrific global pandemic is definitely there.
But Chinese President Xi Jinping insists that the outbreak is slowing down in his country and that his government "is witnessing positive changes"…
Xi said, "the battle has reached a crucial time" and China had "mobilized the entire country, and adopted the most comprehensive, rigorous and thorough prevention and control measures," Xinhua reported.

"Thanks to those arduous efforts, the situation is witnessing positive changes," Xi said.
Hopefully he is correct, but at this point, there is a tremendous amount of skepticism about the official numbers coming out of China.  In fact, even the White House has expressed skepticism about the numbers.
It would definitely be welcome news if the Chinese were actually getting this outbreak under control, but if that is the case then why did they just bring 40 industrial incinerators into Wuhan?…
China has reportedly deployed 40 industrial incinerators to the epicentre of the coronavirus outbreak Wuhan.

Chinese media reports that the furnaces have been shipped to the city amid ongoing fears the death toll is being covered up.

NTD reports that the cabins are for the disposal of animal carcasses, while China Ship news reports the incinerators are for medical waste.
We know that funerals have been banned in the affected areas and that the government is mandating that all bodies be burned.
And we also know that dead bodies have been piling up at crematoriums in Wuhan even though they have been burning bodies 24 hours a day.
So are these industrial incinerators being brought in to help burn the backlog of dead bodies?
We don't know, but that is what a lot of people suspect.
Meanwhile, this outbreak continues to escalate all over the globe.  Just a few hours ago, we learned that the number of confirmed cases in South Korea has risen to 46…
The number of coronavirus cases in South Korea rose to 46 on Wednesday, after 15 new cases were reported, including a cluster of nearly a dozen centred on the southeastern city of Daegu.

Of the new cases, 13 were in Daegu and neighbouring North Gyeongsang province, said the Korea Centres for Disease Control and Prevention (KCDC), and eleven were believed to be linked to a single patient, a 61-year-old woman.
And I was quite surprised to learn that Iran has reported two deaths due to the coronavirus…
The 2 Iranians who reportedly tested positive for COVID-19 have died, according to several foreign media reports cited by Reuters.

As we reported earlier, a health ministry spokesperson said both cases were found and isolated in the city of Qom, where the two were treated in quarantine. Their conditions were said to be relatively stable earlier.
There are very few areas of the globe that have not been hit yet, and the number of cases outside of China continues to rise at an exponential rate.
Here in the United States, the number of confirmed cases is still fairly low, but the secrecy with which some officials are treating this outbreak is quite curious.  The following example comes from Natural News…
According to the Tampa Bay Times, "state health officials say they can't disclose how many people have been tested for the virus… state Surgeon General Scott Rivkees said the Florida Department of Health is not authorized to publish the number of people in the state being tested for the virus out of privacy concerns."

But that's a lie.

Publishing aggregate numbers without any personally identifiable information doesn't violate any law or regulation related to personal health privacy.
Hopefully, those officials are just being overly protective and they aren't trying to cover something up.
Because the American people deserve the truth, and they haven't always been getting it during this crisis.
I am still hoping that President Trump is correct and that this outbreak will start to fade once winter ends and warmer temperatures arrive.  But all of the scientific research that has been conducted so far indicates that this is an extremely dangerous virus, and we should all be taking this outbreak very seriously.
About the Author: I am a voice crying out for change in a society that generally seems content to stay asleep. My name is Michael Snyder and I am the publisher of The Economic Collapse Blog, End Of The American Dream and The Most Important News, and the articles that I publish on those sites are republished on dozens of other prominent websites all over the globe. I have written four books that are available on Amazon.com including The Beginning Of The End, Get Prepared Now, and Living A Life That Really Matters. (#CommissionsEarned) By purchasing those books you help to support my work. I always freely and happily allow others to republish my articles on their own websites, but due to government regulations, I need those that republish my articles to include this "About the Author" section with each article. In order to comply with those government regulations, I need to tell you that the controversial opinions in this article are mine alone and do not necessarily reflect the views of the websites where my work is republished. This article may contain opinions on political matters, but it is not intended to promote the candidacy of any particular political candidate. The material contained in this article is for general information purposes only, and readers should consult licensed professionals before making any legal, business, financial or health decisions. Those responding to this article by making comments are solely responsible for their viewpoints, and those viewpoints do not necessarily represent the viewpoints of Michael Snyder or the operators of the websites where my work is republished. I encourage you to follow me on social media on Facebook and Twitter, and anyway that you can share these articles with others is a great help.