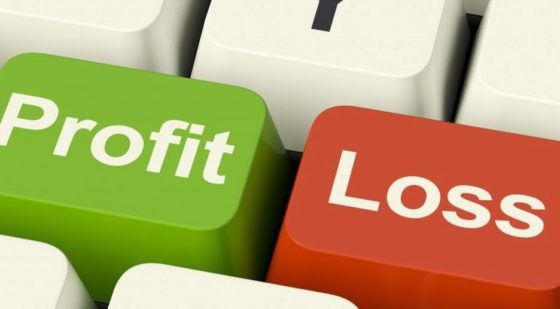 We are constantly being told by the mainstream media that consumer confidence is high and that the economy is booming.  Yet signs continue to emerge that all is not well under the surface.  Companies have begun warning about profit losses, which could mean serious trouble for the market.
According to CNBC, many companies are lowering their expectations for the upcoming third-quarter earnings season. The warning should be heeded, as lower profit margins mean more layoffs and a less stable market. Citigroup strategist Tobias Levkovich said investors' high expectations for profits could cause a hit to markets if earnings disappoint.
Earnings have been on a roll lately, with both the first and second quarters posting growth rates around 25 percent. Those growth rates, though, are expected to diminish considerably. The third quarter is projected to come in 19.3 percent while Q4 likely will slow to 17.3 percent, resulting in a full-year rate of a robust 20.4 percent, FactSet estimates.

In 2019, those numbers change: 7.1 percent and 7.3 percent for the first two quarters, respectively, and a full-year rate of 10.3 percent. -CNBC
Levkovich cast doubt on the expectations for 2019, telling clients, that "we believe current double-digit forecasts for profit growth seem excessive. Thus, caution may be appropriate." And with the market basing much of its prolonged rally in 2019 on surging profits, this should serve as a warning that things may not be as easy in the near future.  Levkovich also blamed a looming profit loss on tariffs and an ongoing trade war, citing sanction.
"Given ebullient investor sentiment, we do not think there is much room for companies to disappoint without taking a hefty toll on share prices," Levkovich said. "Notably stronger dollar and higher interest rates plus some softness in emerging economies all intimate the potential for misses. We also wonder how CEOs and CFOs will respond to questions about the impact of trade sanctions." With the trade war already impacting Americans wallets and disposable income, it makes sense that companies will see fewer profits.
The impact of the trade war hasn't even been fully felt yet either, as inflation will come about after a rise in prices on goods and services.  "Too few investors focus on the impact of cyclical businesses for [earnings per share] growth, in our opinion, and thus significant misconceptions abound," Levkovich said. "We still worry that portfolio managers are anticipating too much from Corporate America and thus missing lofty expectations might be the catalyst for a pullback.
The "Great Bull" market that came after the financial crisis in 2008 is now dead according to a Bank of America Merrill Lynch analysis. This is due to slowing economic growth, rising interest rates, and too much debt – both government debt and personal debt.