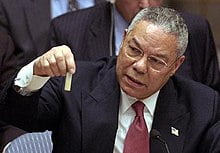 Four-star general Colin Powell has died at the age of 84, due to complications from Covid-19, according to mainstream media reports. The prominent politician had been receiving treatment at the Walter Reed National Medical Center and was fully "vaccinated" against the coronavirus.
Colin Powell, who was the first black person to serve as United States Secretary of State, has passed away, his family announced on Monday in a post on his Facebook page, according to a report by RT.  "We have lost a remarkable and loving husband, father, grandfather, and a great American," they said, adding that he had been fully vaccinated against Covid-19, but that it eventually took his life.
I'm sure Powell's complications from COVID would have been worse has he not been vaccinated. Is there a medical condition worse than death?
MSM Propaganda: Man Who DIED OF COVID Could Have Had A "Worse Condition" If He Wasn't Fully Vaccinated
Former Secretary of State Colin Powell has died after complications from COVID-19, according to a statement from his family on his Facebook page.

Absolutely tragic. pic.twitter.com/dI2BylPenS

— David Hookstead (@dhookstead) October 18, 2021
Powell was a part of George W. Bush's ruling class as the first secretary of state and, during that time, became the highest-ranking black public official. In 2003, Powell made his administration's case for invading Iraq to the United Nations, citing faulty intelligence that Hussein's Ba'athist regime was stockpiling weapons of mass destruction.
In a now-iconic photograph, he held up a model vial of faux anthrax in front of the UN General Assembly but would come to acknowledge the event as a "blot" on his record. What ensued was a ruinous eight-year war.
Powell was firmly a member of the ruling class elite and helped promote the left vs. right paradigm lie. The former military man became disillusioned by his party's move to the right and even publicly supported Barack Obama in his bid for the presidency. Powell also endorsed Joe Biden's candidacy to lead the country, stating that he would be "a president we will all be proud to salute."
Any endorsement of any master to rule over anyone else is an immoral stance to take. So let's look deeper. Is this a psychological operation? Maybe. Is it a plot to further cement people in the left vs. right paradigm lie? Maybe.  Considering the news is fairly new, we may not know for a little while.
Here's an interesting take on Powell's death:
Take that information as you will, use your critical thinking and discernment. But we should all be able to look at information and make decisions for ourselves.  Stay alert and prepared. Until enough people open their eyes, there is little else any of us can do.