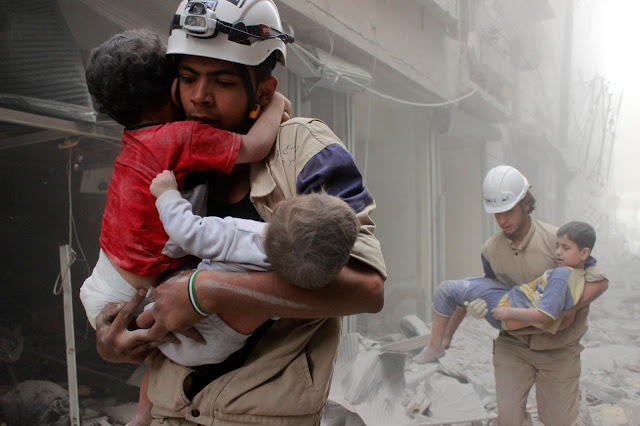 How will the next phase of war in Syria develop?
It appears that all new levels of chaos and worldwide danger are upon us. The writing is on the wall.
A new claim from Russia suggests that the United States and Saudi Arabia, along with other partners, are planning to use ISIS once again to destabilize Assad in Syria.
If the account is to be believed, U.S. and British troops will use the pretext of 'retaking Mosul' in Iraq – which is currently held by ISIS – to give ISIS troops escape into Syria under cover of being attacked.
The implication is that they would bomb targets that are already emptied of jihadists, who will actually be helping to achieve their objectives in neighboring Syria.
Sneaky, and begging for more blowback.
via The UK Sun:
THOUSANDS of ISIS fighters are to be given safe passage out of Iraq to fight in Syria, Russian military leaders claim.

The jihadi army – and their families – will allegedly be let back in to Syria to battle president Bashar al-Assad and his Russian allies.

[…]

Nearly a thousand US and British troops have been sent to retake Mosul – the largest city under ISIS control.

But under the supposed agreement – allegedly brokered by Saudi Arabia – the US-led coalition will only bomb targets agreed with the militants in advance…

"In preparation for the operation in Mosul, US intelligence agencies and Saudi Arabia agreed that before the assault all militants will be offered a safe route to leave the city with their families.

[…]

"More than 9,000 ISIS fighters will be transferred to the eastern regions of Syria to follow a major offensive operation, which involves the capture of Deir ez-Zur and Palmyra."
If this proves to be accurate, it will represent a new front in the Syrian war, and the likelihood of direct confrontation between the United States and Russia – as these ISIS troops would be taking on Russian troops as well.
The duplicitous maneuvers depend upon a compliant and dumbed-down American population, which is readily at hand. The assumption is that no one is even paying attention to the lies and outright deceptions.
This is a massive false flag in the making – perhaps the very one everyone has been warning about.
Putin has already put Washington on notice that any direct strike on Syrian forces would be regarded as a direct attack on Russia, and retaliation would be in order.
Russia is now being scapegoated in Western media, and both sides are conducting drills, upgrades and tests in case things go nuclear and all-out world war should result.
Powers That Shouldn't Be Scapegoat Russia as Wussification of America Continues

Please subscribe and share this video.
There has never been a more dangerous time in our lifetimes.
What is happening now will make the Cold War look like a game.
Read more:
Powers That Shouldn't Be Scapegoat Russia as Wussification of America Continues
US Complains As Putin Bombs its Terrorists: "ISIS Is An Intentional Creation of U.S."
Russia Fires Nuclear-Ready Ballistic Missiles: "Increasing Tensions With the U.S."
As Terror Attacks Hit Home, U.S. Caught "Bombing Syria to Aid ISIS"
Russia Conducts "Nuclear Drill" With 40 Million As U.S. Pushes for War in Syria
Update: "Putin's Favorite Chauffer" Killed In Accident… Exactly As Former CIA Director Described On TV