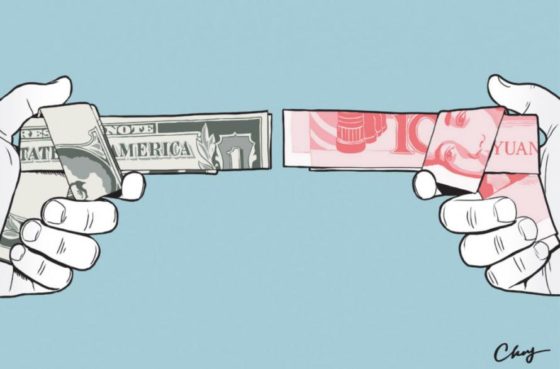 China isn't backing down when it comes to the trade war.  The Chinese government has just raised tariffs on imports coming in from the United States and cut duties on goods from other countries.
In addition to gaining an edge against the U.S. in the trade war, lowering tariffs on products originating from other countries allows China to limit the damage on its economy, PIIE (Peterson Institute for International Economics) said, according to CNBC. Such a move by China has placed American firms at a "considerable cost disadvantage," said PIIE researchers, who include notable trade expert Chad P. Bown.
https://www.shtfplan.com/headline-news/goldman-sachs-tariffs-costs-fall-entirely-on-u-s-households-businesses_05132019
American businesses will likely be unable to compete with goods that cost less and will be even more suffocating for businesses. According to research done by PIIE, China's average tariff rate on U.S. goods jumped from 8% at the start of 2018 to 20.7% this month while China's average tariff rate on its imports from all other countries fell from 8% at the start of 2018 to 6.7% last November. It has stayed at that level since then.
Beijing has been repeatedly cutting its duties on imports from America's commercial rivals, including Canada, Japan, and Germany. The PIIE also stated that Americans are suffering more than the media and government are telling them under the weight of the tariffs.
Inflicting such punishment on Americans may be one factor motivating China. A separate motivation may be that it is trying to minimize the harm to its own economy by importing vital goods at better prices from other parts of the world. –Peterson Institute for International Economics

China doesn't appear to want to back down and neither does the U.S. sticking the American consumer and businesses right in the middle and hitting them where it counts: in the wallet.

China increased its tariffs on U.S. exports to an average of nearly 21 percent, on June 1, 2019. This increase was in response to two areas of escalation on the U.S. side. First, on May 10, the United States raised tariffs from 10 to 25 percent on $200 billion of Chinese exports.  Second, on May 17, the Trump administration stated it would soon impose a 25 percent tariff on roughly $300 billion of additional Chinese exports to the United States.

Tariffs are costly only to the country imposing them, and China is no exception. To offset this cost, China made the decision to reduce tariffs toward the rest of the world dealing what is likely a lethal blow to the U.S. economy. All of this is going on while the U.S. continues to threaten tariffs and trade wars with other countries.