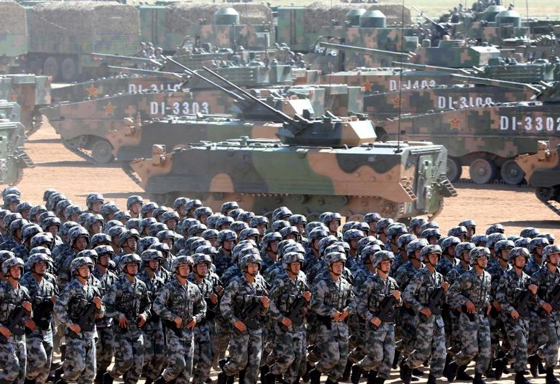 A widely-read and a rather provocative mouthpiece for Beijing quoted Chinese observers who said the country would have no choice but to respond with "counter moves" if the U.S. were to press ahead and elevate its relations with Taiwan.  And one of those countermoves could include military action.
The legislation, known as the Taiwan Travel Act, is upsetting the Chinese. It came into effect Friday after President Donald Trump signed the bill and added to already bow tight tensions and a fear of a war. The Taiwan Travel Act allows US representatives to meet officials from the self-ruled island of Taiwan, but the Chinese government believes the newly signed legislation is a direct threat to them.
China has also recently threatened Taiwan for agreeing to be cordial and diplomatic with the US, saying the island's independence will not be tolerated.
China's threat to Taiwan is ratcheting up fears of a third world war. A comment by the Chinese government saying they will "never tolerate Taiwanese independence" has prompted fears an all-out invasion is imminent.

The chilling threat was made by Premier Li Keqiang as top Chinese officials met in Beijing for the annual meeting of parliament on Monday. "We will never tolerate any separatist schemes or activities for Taiwan independence," Li Keqiang said. He also stated that China will promote the peaceful growth of relations across the Taiwan Strait and "advance China's peaceful reunification. We will remain firm in safeguarding China's sovereignty and territorial integrity and will never tolerate any separatist schemes or activities for Taiwan independence." -SHTFPlan
China should and will take military action if the US decides to press ahead with the legislation designed to encourage high-level contact with Taiwanese officials, according to a report by state media outlet The Global Times.  Liu Weidong, a researcher at the Institute of American Studies of Chinese Academy of Social Sciences, said the Chinese army would resume its military probes circling the island and send more military vessels and airplanes if any "Taiwan independence" secessionist forces perceive the U.S bill as a pro-independence signal.
In response to the bill, China said Saturday that it "firmly opposes" the move and demanded the U.S. "correct its mistake," according to the Chinese Foreign Ministry's website. The new legislation comes on the heels of president Donald Trump's calls for tariffs and reduced trade imbalance with China.  It also comes shortly after the Chinese president, Communist dictator Xi Jinping gave himself the go-ahead to remain in power for as long as he wants. There are about 3,000 delegates to China's National People's Congress, and theoretically, they can vote any way they want. But in its history, it has never vetoed a proposal by China's Communist Party.