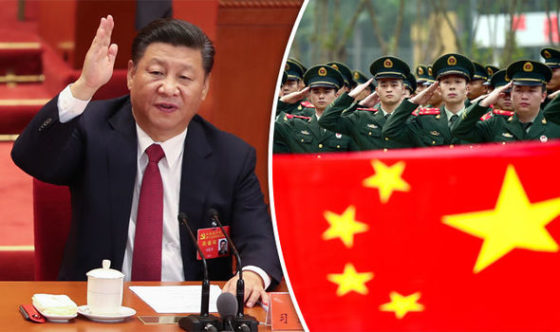 China's threat to Taiwan is ratcheting up fears of a third world war. A comment by the Chinese government saying they will "never tolerate Taiwanese independence" has prompted fears an all-out invasion is imminent.
The chilling threat was made by Premier Li Keqiang as top Chinese officials met in Beijing for the annual meeting of parliament on Monday. "We will never tolerate any separatist schemes or activities for Taiwan independence," Li Keqiang said. He also stated that China will promote the peaceful growth of relations across the Taiwan Strait and "advance China's peaceful reunification. We will remain firm in safeguarding China's sovereignty and territorial integrity and will never tolerate any separatist schemes or activities for Taiwan independence."
According to The Daily Star, China has been infuriated over plans made by the US to strengthen ties between Washington and Taipei. The plans would allow Taiwan bosses to enter the US "under respectful conditions" and meet their American counterparts. Officials had already told Taiwan on Friday the country would only get burnt if they relied on the US, adding to the warnings from state media about the risk of war.
Beijing considers democratic Taiwan to be a wayward province and integral part of "one China", ineligible for state-to-state relations and has never renounced the use of force to bring the island under its control. China's hostility towards Taiwan has risen since the election to president of Tsai Ing-wen from the pro-independence Democratic Progressive Party in 2016.
Global tensions have continued to increase in recent years, with many signaling China as the country to watch.  Fears heightened as China's Communist dictator Xi Jinping just gave himself the go-ahead to remain in power for as long as he wants. There are about 3,000 delegates to China's National People's Congress, and theoretically, they can vote any way they want. But in its history, it has never vetoed a proposal by China's Communist Party.
There is already massive dissent online because of Xi's power grab, and China's censors are working hard to squash it. They temporarily (although nothing is as permanent as a tempory government edict) banned the use of the phrases "personality cult" and "my emperor," and also references to Winnie the Pooh; a character long used to mock Xi Jinping based on an apparent resemblance. The letter 'N' has also been banned by the Chinese government because of it's reference to the number two, signaling two terms in office. But they Chinese have kindly lifted the ban on the letter as of Monday.