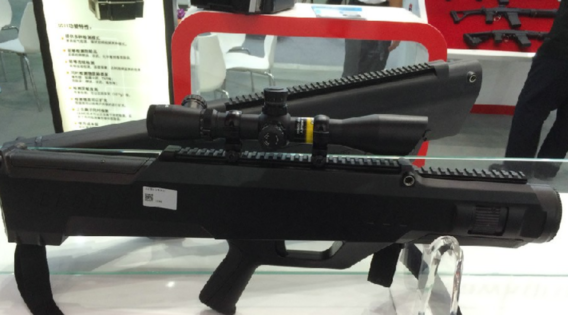 The newest Chinese rifle invention is not only laser-powered, but it can literally set a human being on fire.  Oh, but don't worry too much; the Chinese government promises it's not lethal.
If you tick off the Chinese government, they just might send soldiers armed with "non-lethal" laser-powered rifles that will set you to fire to correct your behavior.   According to South China Morning Post, the new high-tech weapon is dubbed the ZKZM-500 and the "laser assault rifle" has similar dimensions to that of the AK-47. The weapon allegedly weighs about 3 kilograms (6.6lbs) with a "caliber of 15 millimeters" and it is powered by rechargeable lithium batteries that allow for 1,000 "zaps" that last 2 seconds long each.
From 800 meters (about half a mile) away or less, the rifle can burn through a target's clothes and skin and, if their clothes are flammable, set them on fire, according to reporting done by The South China Morning Post. ZKZM-500 is reportedly now ready for mass production and to be used by China's military and police only (not a big surprise there since we all know that the slaves don't get any form of protection against the ruling class). But maker ZKZM Laser hasn't found a licensed partner yet. so it may be some time still before the Chinese police and military start setting those who irritate them by living freely on fire.
This is just another example of not-so-friendly tech coming out of China's modern-day dystopia. The government plans to install RFID chips into new Chinese-market cars to track a vehicle's location and has been using bird drones, each equipped with a high-definition camera, for surveying its citizens, each of whom it plans to give a personal score based on behavior by 2020. –CNET
While it is true that the Chinese ruling class is creating a broader dystopia for those living under the current regime, all of those things are coming to the United States, and if one doesn't "believe" that to be true, that person hasn't been paying attention.