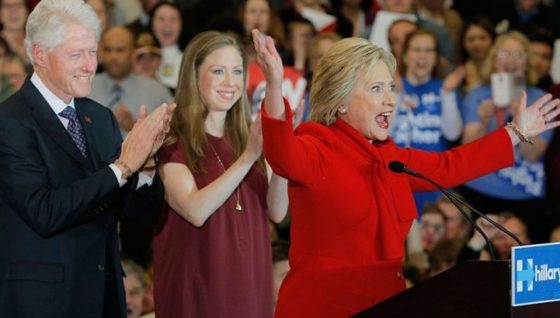 The daughter of Bill and Hillary, two of America's most shrewd political players in history, won't rule out a potential political future.  Chelsea Clinton may still find the time and motivation to run for office, following in the footsteps of her corrupt parents.
As reported and so eloquently stated by The Political Insider, Chelsea Clinton must know that she wouldn't fool anyone by ruling out a future political career. Thus, she hedged in her answer, saying she has no immediate plans for a political run, but the future is full of possibility.  Several media outlets have tweeted about the possibility of yet another leftist Clinton sitting in a political position.
Chelsea Clinton says she has not ruled out running for office https://t.co/3AnFccSUHb

— The Guardian (@guardian) August 20, 2018
While this should be terrifying to anyone who cares about their own freedom and that of future generations, The Political Insider puts it quite bluntly.  We should try to take into consideration Chelsea's DNA.  As the daughter of two very corrupt and authoritative democrats, any negative answer from Chelsea would have been met with skepticism.  Politics (and this isn't meant to be taken literally but figuratively) has been woven into the core of who Chelsea is; it's a part of her genetic code to be a member of the elite ruling class.
According to The Guardian, Chelsea has said she has not ruled out running for office one day, describing a move into politics as a "definite no now" but a "definite maybe" in the future, even though she "abhors" everything Donald Trump is doing in office.  "For me, it's a definite no now but it's a definite maybe in the future because who knows what the future is going to bring?" said Chelsea at the Edinburgh international book festival.  She was there promoting her children's book about women who have "persisted against adversity."
At first thought, almost everyone kind of breathed a collective sigh of relief that maybe, just maybe, the Clintons will stop attempting to become rulers in the authoritarian oligarchy. However, on second thought, after seeing Hillary Clinton lose so dramatically to Donald Trump in 2016, it might be incredibly satisfying to watch Chelsea suffer the same fate.
But to her credit, Chelsea did speak in a very protective manner about Barron Trump, the son of the president.  Chelsea was 12 when her father, Bill, entered the White House. She spoke about how many critics made fun of her looks and referred to her as a dog during that time and that's why she's come to Barron's defense. "I feel incredibly protective of Barron Trump, who is now 12 years old, the same age that I was," she said. "I disagree with his father on everything but people have made fun of him [Barron], bullied him, for his appearance, or for him being more private. Equally, I have no patience for that because he's a child and he deserves a childhood as every child does."
Of course, that statement doesn't make her any less an oligarch.  We are simply giving credit where credit is due.