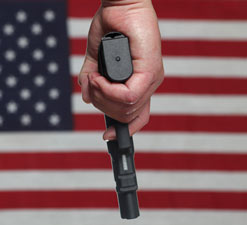 Ready for Hillary?
If her daughter Chelsea is any indication, a Hillary Clinton president quickly become an even better gun salesman than Obama is now.
The wife of the president who enacted the assault weapons ban in the 90s may well become the next commander in chief, and a Supreme Court without Justice Scalia is more likely than ever to uphold gun control – only this time in a way that sticks.
Chelsea Clinton just said what everybody has been thinking – that the Second Amendment may not survive the next president or the next Supreme Court justice.
Chelsea was on the stump when she shared some wisdom imparted to her by her mom — actually stating openly the advantage for gun control made possible by Justice Antonin Scalia's sudden death:
"It matters to me that my mom also recognizes the role the Supreme Court has when it comes to gun control. With Justice Scalia on the bench, one of the few areas where the court actually had an inconsistent record relates to gun control."

"Sometimes the court upheld local and state gun control measures as being compliant with the Second Amendment and sometimes the court struck them down."

"So if you listen to Moms Demand Action and the Brady Campaign and the major efforts pushing for smart, sensible, and enforceable gun control across our country — disclosure [they] have endorsed my mom, they say they believe the next time the court rules on gun control, it will make a definitive ruling." (via The Daily Caller)
Watch the Video:
Normally this falls under the category of things that are quietly done once the election is over; but to say it during the campaign is quite unnerving.
There are many reasons to believe that the country may be too far gone already, but it may be unrecognizable in just a a few more years.
Do you think the Second Amendment will survive the next wave of judicial activism, or a Hillary presidency (which is becoming increasingly likely as November approaches)?
Read more:
Obama's Nominee Will Unleash Supreme Court Assault on Freedom: "Gun Rights Would Not Survive"
Hillary Wants to Sue Gun Industry Into Oblivion, But Give Vaccine Manufactures "Absolute Immunity"
Texas Police Chief Warns Obama That Gun Control Will "Cause A Revolution… You're Not Our Potentate, Sir"
Now Among Largest Firearms Investors, Soros in Gun Control Scheme to Dump Stocks: "I'm Very Much Against Guns"