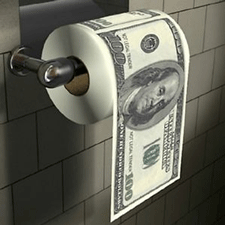 Recent weeks have brought forth a barrage of negative news about the economy. There are more Americans out of the workforce today than ever before and America's top companies are set to layoff thousands more amid dwindling revenues. To say we are in a recession may be an understatement, as even mainstream economists and analysts are warning that we may be on the cusp of another Great Depression. Couple that with widespread geo-political tensions and sustained "emergency" monetary easing by just about every central bank in existence, and we have a recipe for disaster.
That's why Max Porterfield, the Chief Executive Officer and President of Callinex Mines, says that those concerned with the future and the uncertainty it will bring need to immediately consider diversifying their portfolios into hard, tangible assets.
Obviously there are some issues that need to be settled in the global economy… there is still a hangover from everything that occurred in 2008… the rebound we had since then has not been on a good foundation and we're seeing the signs of that.

In an inflationary environment you want to hold tangible assets like gold and other commodities…
There's a reason that billionaires have been building remote retreats, stockpiling emergency supplies and rapidly shifting into hard assets like gold, silver and other resource investments.
Watch the full interview from SGT Report for details:
You can learn more about Callinex Mines, Max Porterfield and their latest strategic moves by clicking here.
For more interview like this one visit SGT Report.