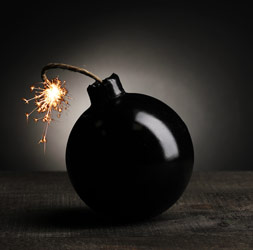 If the first week of 2016 has proven anything, it's that the contrarian investors who have been warning of systemic breakdown in financial markets have been correct in their assessments that some of the world's most well known brands and companies are significantly overvalued.
But the crazy valuation levels aren't just limited to Wall Street darlings who saw prices of their stocks rise to all-time highs in recent years. According to Keith Neumeyer, the CEO of one of the world's top primary silver producers and founder of the First Mining Finance mineral bank, commodities, and more specifically silver and gold mining companies, have seen a comparable insanity but in completely the opposite direction.
Since I have been in this business for 34 years I have not seen the hate [on silver and gold] that we are now experiencing. The valuations we are seeing in the mining sector are at crazy levels where you can buy ounces in the ground of gold for less than $10 which is nothing I've seen over my career.
Watch as Keith Neumeyer and David Morgan get into the details of what we've seen thus far in financial markets, why we can expect gold and silver to become the monetary assets of last resort as panic grips the world, and how to position yourself to grow your wealth as the next leg of the global crisis takes hold:

(Watch at Future Money Trends)
What it boils down to for Neumeyer is that the across-the-board disconnects in global asset prices has created an unprecedented opportunity and he is actively taking advantage of it:
The reason I put First Mining Finance together is because I am accumulating assets of what I perceive at or near the bottom at historic lows in the sector.

Whether we are at the bottom or close to the bottom or a month away or six months away or a year away, to me I don't really care because it's a great time to be accumulating assets right now.
This week we saw exactly how precious metals behave when broader stock markets come under pressure. As global stocks crashed, precious metals saw significant gains.
This shows, as we've seen in prior crises, that when capital flight to safety begins amid widespread panic and chaos in financial markets gold and silver will be the go-to safe haven assets of last resort.
---
Visit Future Money Trends for more videos, commentary and news. Click here to learn more about Keith Neumeyer's First Mining Finance mineral bank.