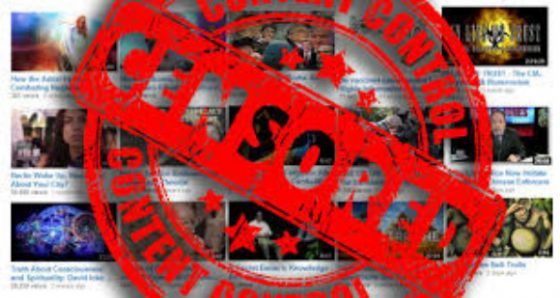 YouTube has decided to stop suggesting "conspiracy videos" to users on its platform.  It will no longer recommend videos "claiming the earth is flat or making blatantly false claims about historic events like 9/11."
So basically, anyone who questions the status quo, the official narrative parrotted by the mainstream media or offers up any idea contradicting that of a full-blown totalitarian grip on humanity, will be silenced. People, apparently, can no longer be trusted to watch a video about whether or not the Earth is flat and determine its merits on their own, so YouTube has decided it'll just be your mommy and hide it from everyone.
The change will not affect the videos' availability, however.  YouTube just wants to make it as difficult as possible for people to hear opposing ideas.  If users are subscribed to a channel that produces YouTube's definition of "conspiracy content," or if someone searches for specific content, they will still see related recommendations, the company wrote according to NBC News.  "It's only the beginning of a more humane technology," said Guillaume Chaslot, a former Google engineer, who helped to build the artificial intelligence used to curate recommended videos.
 In a thread of tweets posted on Saturday, he praised the totalitarian change promoting the plan to brainwash everyone into thinking exactly alike and having the same thoughts and ideas. He said this would be "technology that empowers all of us, instead of deceiving the most vulnerable," Chaslot wrote. He called this plan a "historic victory."
YouTube announced they will stop recommending some conspiracy theories such as flat earth.

I worked on the AI that promoted them by the *billions*.

Here is why it's a historic victory. Thread. 1/https://t.co/wJ1jbUcvJE

— Guillaume Chaslot (@gchaslot) February 9, 2019
Many support YouTube's attempts to silence
dissent by labeling it "conspiracy" content. But others are calling it what it is:
https://twitter.com/hollyhaygood/status/1094544733538566144
But by and large, most are concerned that there are other individuals out there who may have different ideas on how to run their own lives so they seek to control information that they determine to be wrong, whether it is or not.  Believing the Earth is flat hurts exactly no one.  The believer may never visit the moon or the International Space Station, but no one is hurt by a belief until that belief is forced on others.
And all of the believers in the holy and almighty religion of government (statists) and it's all too obvious propaganda termed the "official narrative" are the absolute worst.  After all, flat-earthers aren't censoring their content, but statists are all too happy to silence anyone who rejects the tyranny of the religion of statism.
"There is more than one way to burn a book. And the world is full of people running about with lit matches."
― Ray Bradbury, Fahrenheit 451
"For a nation that is afraid to let its people judge the truth and falsehood in an open market is a nation that is afraid of its people."
[Remarks on the 20th Anniversary of the Voice of America; Department of Health, Education, and Welfare, February 26, 1962]
― John F. Kennedy