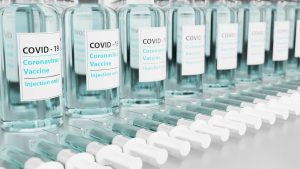 The Center for Disease Control and Prevention has recently released data that shows that the most vaccinated counties in the United States also have the most COVID cases.
In 500 counties where 62 to 95 percent of the population has gotten injected with the experimental gene therapy shots deceptively being called "vaccines," the rulers have detected more than 75 new "cases" of COVID-19 per 100,000 residents this past week. Conversely, in 500 counties where only between 11 and 40 percent of the population got the jab, only 58 cases per 100,000 residents were detected, according to a report by the Epoch Times. 
The data is skewed by the fact that the CDC suppresses figures for counties with very low numbers of detected cases (one to nine) for privacy purposes. The Epoch Times calculated the average case rates by assuming the counties with the suppressed numbers had five cases each on average.
The latest "wave," of COVID-19 is being propagated and blamed on a subvariant of the omicron (moronic) variant known as BA.2. It is said to be more transmissible but less virulent, meaning it is absolutely no big deal and may not even exist, for all we know.
For a chart of the CDC's own data, please click here. You can view their data as a table or a map. Both are pretty damning in terms of the "vaccines" and their "effectiveness" at preventing the common cold COVID-19.
SCIENCE SHOCK: Not A Single Record Of Purified Virus Behind COVID-19 Pandemic
The rulers have told us when we will finally see the end of the scamdemic:
Ruling Class: The Scamdemic Won't End Until The WHOLE WORLD Is Vaccinated
This is not over, and not by a long shot. New variants continue to be announced, Fauci is warning of more restrictions coming back, and all of this at a time when the food supply is strained. If they decide to pull something off again, prepare for panic buying and a "vaccine-resistant" variant that may be engineered to actually do real harm.