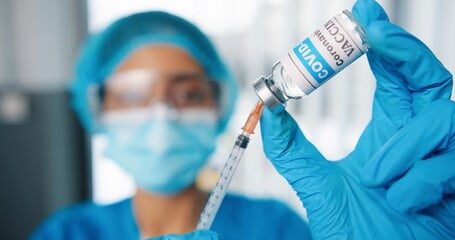 The ruling class is trying their best to get these experimental gene therapy shots into more arms. The Centers for Disease Control and Prevention is doing their part to push the propaganda by labeling the "delta variant" as a "variant of concern."
The CDC has followed in the World Health Organization's footsteps and taken to fear-mongering to get more people vaccinated. They reclassified the delta variant of COVID-19 as one "of concern," underscoring how much more prevalent the B.1.617.2 variant first identified in India is becoming in the U.S. This is not the first attempt at ramping up the fear to get more people "vaccinated."
Coronavirus Variants Detected In California Are Now "Variants of Concern"
Head medical tyrant, Dr. Anthony Fauci, who is also the chief medical adviser to President Joe Biden, said earlier this month that the variant seems to be more transmissible than the Alpha variant and may carry a higher risk of getting sicker and ending up in the hospital if someone gets infected, according to a report by Market Watch. 
Because of the constant fear-mongering by the ruling classes, some places will never reopen. They will be on lockdown forever, or until the slaves actually rise up and stand together against slavery in all forms. The mainstream media continues to use this particular variant to try to panic the public.
The delta variant has spread across the U.K., accounting for 90% of new cases in the latest week, and is the main reason Prime Minister Boris Johnson postponed the U.K.'s planned reopening for an extra four weeks earlier this week. The World Health Organization said this week the variant is now in 74 countries, sparking concerns it may become the dominant strain around the world. –Market Watch
This appears to be all about the vaccine at this point. They need more people injected with this shot and that's becoming more apparent as it's in every single piece of propaganda put out by the ruling class puppets in the mainstream media:
Health officials are urging those Americans who have not yet been vaccinated to get their shots as soon as possible, stressing that the vaccines that have won emergency-use authorization so far are all highly effective against the variant. –Market Watch
This push to get people vaccinated comes as the rate of injections is slowing in the United States.  "Over the past couple of months, it's become increasingly apparent the U.S. probably won't be able to sustain its current rate of vaccinations much longer," Civic Science said in its latest research report. "Given the large number of Americans who are reluctant to get inoculated, America's pool of willing vaccine recipients is rapidly drying up."
Based on what we are being fed by the media, this delta variant scare tactic looks like it's being done to manipulate those who still have yet to take this experimental gene therapy into doing so.
Stay alert and prepared.  They may try something at any moment.  Continue to stand your ground, and ask the questions the media won't. Free your mind and learn to use discernment.  This will likely get worse before it'll get any better. The real question that is difficult to answer with any evidence, is what role this shot is playing in the New World Order/Great Reset agenda?  How large of a piece of the overall agenda will this shot end up being?