This article was originally published by Tyler Durden at ZeroHedge.
Major US banks, including Wells Fargo, Bank of America, JPMorgan, and others, will push into the digital wallet space in the second half of this year to take on Apple Pay and PayPal.
Early Warning Services LLC (EWS), the bank-owned company that operates the money-transfer service Zelle, will be managing the new digital wallet, according to WSJ. The wallet has yet to be named but will be separate from Zelle and allow shoppers to pay at merchants' online checkouts with linked debit and credit cards.
EWS plans to offer the new digital wallet later this year and can handle up to 150 million debit and credit cards during the initial launch. Consumers in good standing with banks will be eligible for the new service.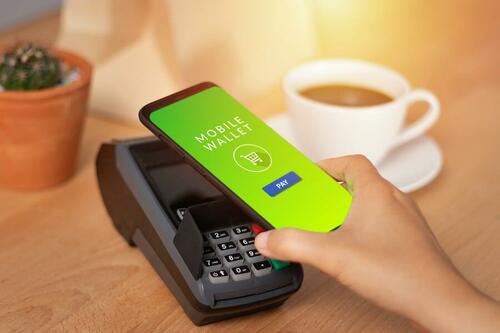 The purpose of the digital wallet is to take on third-party wallet operators such as Apple and PayPal, according to people familiar with the matter. They said banks are concerned about losing businesses if a digital wallet is not released soon. Even though Goldman Sachs' consumer unit that manages the Apple Card is a money-losing business, there is a plan to launch a high-yield savings account and buy now, pay later program.
The move towards electronic and contactless payments has been gradual but could soon be thrown into hyperdrive if enough consumers adopt EWS' new wallet. It was during the Coronavirus pandemic when the government, Federal Reserve, and corporations urged people to avoid unnecessary physical transactions that increased the push toward a cashless society.
Recall the pivot toward a cashless society was clear as day. Perhaps the coin shortage during the pandemic was a test run. And anyone who dared mention a looming cashless society was deemed a 'conspiracy theorist.'
Just remember who is also shaping the world and influencing politicians and corporations away from a cash economy:
Dethroning cash as king. How digital payments are enabling a shift away from the cash economy https://t.co/FUYE2KHVfn @WEFUpLink pic.twitter.com/QpRmA61JXz

— World Economic Forum (@wef) February 22, 2022
The dystopic view is that a cashless society could mean governments and corporations will have even more control over our wallets — and that's frightening.