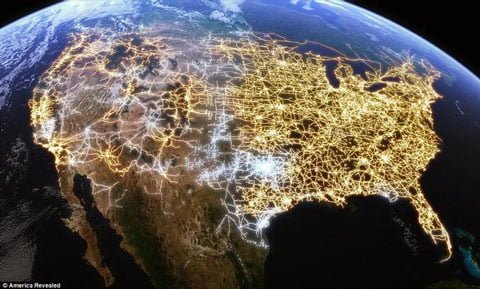 The coming brave new world may also be a fragile one.
As most of the Western world is pushed into abandoning cash and embracing a fully digital cashless grid, it is apparent how vulnerable populations will become in times of crisis.
If the power grid were to go down in a storm or an attack, it is readily apparent that the system of commerce would go down with it; payments would stop and desperate people would line up for help. Those with their own supplies, barter items and physical commodities will remain the most comfortable, but the very fabric of society could come unglued.
Will they really ban cash when so much could go wrong?
Paul-Martin Foss writes for the Carl Menger Center:
Cash is being displaced by credit and debit cards, which are themselves beginning to be displaced by new digital currencies and payment systems …

But despite all the advances brought about by the digital revolution, there are still quite a few drawbacks. The most obvious is that it is reliant on electricity. One major hurricane knocking out power, a mid-summer brownout, or a hacker attack on the power grid could bring commerce to a halt. With cash, transactions are still possible. With digital payments, civilization comes to an end until power is restored. Unless you have food stored or goods with which to barter, you're out of luck. Just imagine a city like New York with no power and no way to buy or sell anything. It won't be pretty.

[…]

With digital currencies such as Bitcoin, there is the problem that they are created out of thin air. One bitcoin represents the successful completion of a cryptographic puzzle, but all that means is that some computing power was used up to create a unique electronic file. That's all it is, just a series of ones and zeros. There is nothing tangible about Bitcoin and, indeed, if you lose the hard drive on which you stored your bitcoins, those bitcoins are lost forever.
On top of that, the potential for manipulation and the built-in assault of surveillance and tracking is enough to cripple liberties in the world that is cementing its patterns around this new technology.
What happens when online platforms don't like your speech or your rights? What happens if their policy blocks you from buying something – like a gun – that you have the right to buy, or prevents you from spending your money, potentially freezing your account without notice. Again, the Menger Center makes the point:
Take a look at PayPal, for instance. PayPal's terms of service forbid use of the service to buy or sell firearms, firearms parts, or firearms accessories. Many individuals who have used PayPal to sell firearms parts find their accounts frozen or shut down by PayPal. Similar things have happened to gun stores having their bank accounts frozen or having their credit card payment processors refuse to process…

[…]

Cases such as this will only be more widespread in the future, especially as governments continue to pursue the war on cash. If cash is eliminated and electronic systems become the only way anyone can pay for anything, all it will take is a little bit of government pressure on payment system operators to stop processing payments for X or Y and voila, you can longer buy X or Y. What good is money in the bank if you can't use it to buy what you want? In fact, governments may dispense with pressure on payment systems and just monitor transactions as they occur, automatically rejecting payments for goods they don't want …

Every transaction made electronically can be tracked and traced. If every purchase you make is done electronically, your entire purchase history is open to scrutiny.
The powerful banking lobby, of course, wants a digital cashless system, because it will enrich them with transaction fees and penalties, continue and expand fractional reserve lending, and give them the power to monitor all the transactions, at detailed levels with data for every purchase. But despite this monitoring, money and transactions will not necessarily be more secure.
You cannot "hold" your money, you must be able to access it, and that depends upon authorization of the system. It can be hacked or erased in a split second.
Can you keep the financial system from limiting your rights and invading your privacy?
And how would America under the digital grid – perhaps 10x worse than Greece when the ATMs are shut down, the banks closed, the grid off and cash eradicated, while the population is forced under the yoke.
Not only is this grid vulnerable, but it is also becoming unavoidable.
Read more:
Banning Cash "Necessary to Give Central Banks More Power"
Cash Ban: Greeks Face "Permanent Cash Controls and Compulsory Use of Plastic Money"
Once Cash Is Banned They Will Be Able To Force You To Buy Products: "Just Tax Their Excess Account Balance"
Americans Face Impoverishing War on Cash: "More Big Banks Are Shunning Cash"
Want Cash? Next-Gen ATMs Demand Biometric Verification: "Smartphone and Eye Scan To Dispense Money"