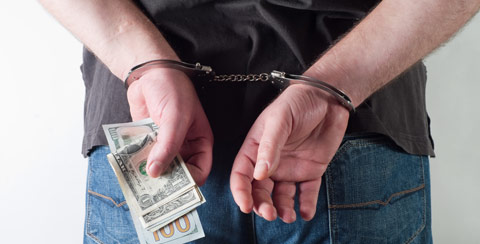 This article was written by Tyler Durden and originally published at Zero Hedge.com.
Editor's Comment: Greeks are not only suffering financially under the controls imposed by its leaders under economic crisis, but they are also losing their freedoms. The combination leads to an impoverished and enslaved population. Worse, this misery is likely to be exported to other countries, as the entire globe faces the prospect of another economic meltdown.
And the response has already been scripted: Americans, too, may find cash to be severely restricted, while their meager earnings are tightly controlled on an electronic grid where they are forced to use digital transactions that enrich the wealth and power of the very banks who have created the crisis. As SHTF previously reported: Once Cash Is Banned They Will Be Able To Force You To Buy Products.
Greek Cash Ban Escalates: 'Permanent' Stricter "Capital Controls" On 3 Million Pensioners, Civil Servants Imposed
by Tyler Durden
In a stunning move towards the elites' endgame of 'banning cash', Greek authorities unveiled stricter capital controls for civil servants and pensioners this weekend. By drastically limiting cash withdrawals and forcing the more 'controllable' compulsory use of plastic money, Greek authorities hope to stop tax evasion through the use of 'fake cash registers'.
As KeepTakingGreece.com reports,
A shock-measure: civil servants and pensioners will be subject to stricter capital controls than the rest of the Greeks. They will be able to withdraw only €150 per week – with the cash withdrawal cap being €420 per week – that is a total of €600 per month. The rest of their wage or pension they will have to spend by using debit or credit card.
The news fell like a bombshell on Saturday evening and spoiled the weekend of millions of Greeks. It will probably spoil the rest of their lives too.
Greek media revealed, that the Finance Ministry plans to impose such a measure in order to combat tax evasion, but of course, not the tax evasion committed by the civil servants and pensioners as this is not possible as the state deducts their share on tax before they receive wages and pensions but the tax evasion committed by business owners.
According to the Finance Ministry plan, civil servants and pensioners will be able to withdraw in cash only part of their wages and pensions and the rest will have to remain in their bank deposit account. This remaining amount they will have to spend only through the compulsory use of debit or credit card.
"The measure will affect 2.65 million pensioners and 600,000 civil servants," notes newspaper To Vima that revealed the shocking plan.
The newspaper adds that with this measure, the compulsory use of plastic money, the business owner , whether a shop or a professional like doctor, plumber etc will not be able to evade taxes since all transactions will be recorded in the banking system.
The Finance Ministry reasoning behind this plan is first of all the assumption that the money – or large party of the money – it pays in wages and pensions is been used in real economy without receipt thus without Value Added Tax and tax revenues for the state.
"Every month the State and the pension funds pay for salaries and pensions of approximately €2.6 billion, that is €30 billion per year.  The salary or the pension comes into the bank account of the beneficiary, who can withdraw 420 euro per week due to the capital controls.
This cash money is being used for the purchase of goods or services "and a large percentage of these transactions does not bring revenues to the state as the transactions are being done without the issue of receipt or receipt are issued by so-called fake cash registers which are manipulated to show less revenues.
In this way, the state suffers revenue losses of approximately 15-20 billion euro per year due to not collection of Value Added Tax and income tax," from businesses and self-employed.
With this measure the state calculates that it will receive in no time revenues from V.A.T. and will not miss a cent from income tax. The state expects to rapidly increase its revenues and "proceeds to future reduction of the tax rates of 8.500,000 taxpayers."
The Finance Ministry apparently considers to exempt pensioners of over 75 years old from the measure as well as those living in remote areas where the use of plastic money is limited.
If the measure successfully increases the state revenues and does not puts obstacles in the operation of households, "it can be extended also to salaries of the private sector."
*  *  * 
The plan revelation triggered an outcry and anger not only among the civil servants and pensioners but also among those not affected by it. But there is more…
Plastic money compulsory for new companies
Another measure is apparently under way in the fight of tax evasion.
"Companies that are founded from next year onward plus a range of sectors of the Greek economy will only be able to accept payment via debit or credit card, according to a plan being drawn up by the government.

The plan, which has yet to receive the final approval from the country's lenders, foresees all new companies having to be equipped with point of sale (POS) terminals that can accept credit and debit cards. The same will apply to numerous professions like will include doctors, lawyers, electricians and plumbers, which are all professions where tax evasion is thought to be rife."

(full article ekathimerini)
Also in this case, the ambitious legislator will create 2 businesses categories and exclude form competition the new companies as they will not be able to accept cash.
Who wins?
One has also to ask who wins from these measures except the state and the revenues it calculates to receive.
For sure the biggest winner are the banks: first of all, they will keep longer the amounts of pensions and civil servants salaries. It could be 1-1.5 billion euro per month. Secondly, because they charge 2 euro per transaction via debit or credit card.
*  *  *
And the biggest loser is The average joe Greek citizen… again.
This article was written by Tyler Durden and originally published at Zero Hedge.com.