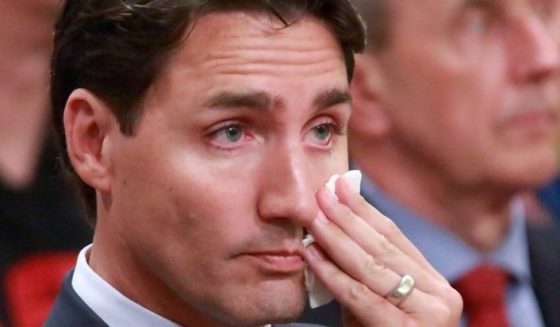 Canadian Prime Minister Justin Trudeau has hilariously blamed the United States for Canada's illegal immigration of asylum seekers. The announcement that the US was to blame provoked a lot of questions for Trudeau in his country's Parliament yesterday.
Trudeau thinks the US is to blame because Nigerians are requesting and obtaining visitor visas to come to the United States.  Once in the US, they are promptly heading to an obscure, unofficial border crossing on the northern end of New York state. Once there, they cross into Canada illegally and request refugee status.
More than 26,000 asylum seekers have crossed illegally into Canada from the United States to file refugee claims in the past 15 months, walking over ditches and on empty roads along the world's longest undefended border.
According to Hot Air, up until now, the Canadians have claimed it as a point of pride to quickly accept and resettle the new arrivals while bashing President Donald Trump for his "immigrant unfriendly" policies. But now Canada is running out of room and resources to take them all in and the Prime Minister would like the US to do a better job of screening them.
Of course, once Trudeau announced that he was blaming the US and their visitor visas for his problems,  it provoked a lot of questions for Trudeau in his country's Parliament yesterday. People were demanding answers as to how the situation has gotten so far out of hand and what Trudeau planned to do about it. All he seemed to have for an answer is that it's the fault of the United States.  There's currently no plan to solve the problem Trudeau is complaining about.
Trudeau wants the legal authority to turn back thousands of asylum seekers crossing the border illegally. According to Reuters, Canada wants to amend a bilateral agreement to allow it to block border-crossing refugee claimants however, they say that the United States is not cooperating.
Under the Safe Third Country Agreement or STCA, asylum seekers who arrive at a formal Canada-U.S. border crossing going in either direction are turned back and told to apply for asylum in the first country they arrived in. Now Canada wants that agreement rewritten so that it would apply to the entire border, and not just formal border crossings.
The U.S. Department of Homeland Security has said it is reviewing Canada's proposal but has not made a decision.