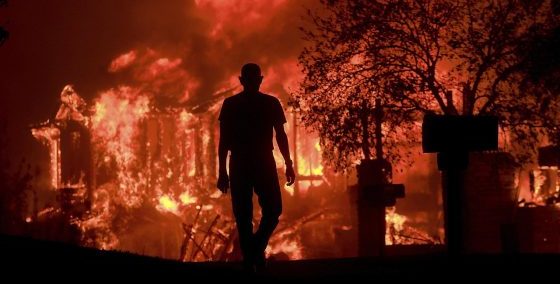 The California wildfires created one of the most devastating events in the state's history. The newest updated numbers are giving us a glimpse into the peril caused in the Golden State.
Thousands of people have been, and still, remain displaced by the fires in California know all too well how dire the situation has become. Now that the fires have been almost completely contained and the extent of the damage has become much more clear, there can be a more comprehensive update of those numbers.
More than 160,000 acres, or 250 square miles, have burned in Sonoma, Napa, and Solano counties, just north of San Francisco. Another 36,000 acres have burned farther north in Mendocino County. The fires are still not 100 percent contained, but firefighters are making progress. Nearly 500,000 acres have been torched in California so far this year—twice as many acres as last year. Since October, Cal Fire has battled 250 new wildfires.
Forty-two people have died because of the fires in Northern California. This staggering number includes 23 in Sonoma County alone. All together, the Northern California fires are the deadliest in the state's history. (The second-deadliest was the 1933 Griffith Park fire, followed by the wildfire in the Oakland hills in 1991.) And as of last week, dozens of people were still missing.
Somewhere near 8,400 structures have been destroyed, according to Cal Fire, the state's wildfire-fighting agency. Eight insurers reported to the California insurance commissioner that about 5,500 homes were completely destroyed, and an additional 4,000 homes were partially burned. Santa Rosa alone lost 3,000 homes to the Tubbs fire which spread at a stunningly rapid pace; a fact worsened by the Bay Area's already dire housing crisis. Those who can afford to rebuild their homes will now face a major labor shortage and steep labor costs possibly making it no longer financially wise to rebuild in California.
Last week, the commissioner estimated that the losses because of the fires totaled more than $1 billion, with that figure expected to continue to rise.
At the fires' peak, 11,000 firefighters across the state—including 3,800 inmate volunteers from the California Department of Corrections and Rehabilitation—battled the flames. Firefighters would work anywhere from 24 to 80 straight hours, dousing active fires and chopping down trees and brush to prevent their spread. About 4,300 still remain on the frontlines to finish containment.
At least two dozen wineries in Napa, Sonoma, and Mendocino counties have been partly or fully destroyed. While some vineyards have been able to finish out the harvest season, those most affected may take up to five years to grow back their vines. Wineries are the backbone of the region's tourism industry; visitors spent $1.92 billion last year, and the fires will likely have an impact on the price paid for wine across the country.