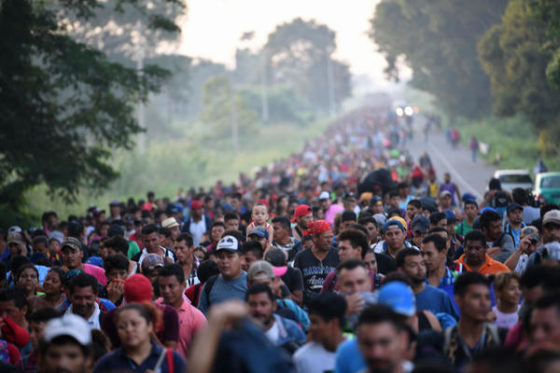 Several sources are reporting that President Trump will send up to 5,000 active duty troops to the US-Mexico border to prevent migrants from the caravan from crossing into the states.
Last week, administration officials said they were considering sending up to 1,000 troops to the border, but according to various news outlets today, that number has been greatly increased.
However, the source of the new information has not been identified, other than being referred to as "a Department of Homeland Security official who spoke on condition of anonymity because he was not authorized to publicly discuss the plans before a formal announcement Monday afternoon," according to USA Today.
As of now, about 2,100 National Guard troops are already scattered along the border, per orders given by Trump earlier this year.
"The troops are not expected to conduct law enforcement activities, but instead provide backup support to Border Patrol agents manning the border and be prepared to react if groups of migrants try to storm the border," writes USA Today.
The Homeland Security official also said the president is expected to deliver a speech on Tuesday to outline further actions to halt the migrant caravan, which could include limiting, or halting, the ability of migrants to request asylum. That move would be predicated on national security arguments similar to those used to enact Trump's travel ban last year, and would definitely meet the same legal challenges by immigration advocacy and civil rights organizations.
This morning, Trump Tweeted about the caravan:
Many Gang Members and some very bad people are mixed into the Caravan heading to our Southern Border. Please go back, you will not be admitted into the United States unless you go through the legal process. This is an invasion of our Country and our Military is waiting for you!

— Donald J. Trump (@realDonaldTrump) October 29, 2018
Legally, the US is required to allow the migrants to apply for asylum. When the last caravan reached the border in April, the majority of the people (401 individuals) did apply for legal asylum at ports of entry. Some (122) were caught trying to enter illegally.
Currently the caravan is an estimated 7,000 people, but that number is expected to drop by several thousand by December.