This article was originally published by Tess Pennington at Ready Nutrition.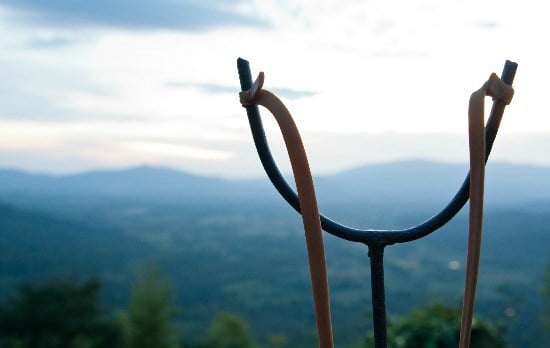 In an emergency, this silent weapon can have deadly force.
Slingshots have long been used in hunting small game, such as rabbits, doves, and squirrels. An advantage of this is that it does not require ammunition, making it ideal for teaching kids about self-reliance. In an emergency situation where you have run out of ammunition, this modest weapon could be converted into a more powerful tool.
Dave Canterbury of Pathfinder School originally came up with the ingenious idea of taking an everyday slingshot and tweaking it so one can kill larger game, and these silent weapons can have deadly force. With a "sling bow", you have a huge range of mobility, unlike with a bow. As well, the lightweight of this makes it an ideal addition to a bug out bag or get home bag. Using this type of sling bow requires accuracy. Therefore, consistent practicing is key in developing an ability to aim proficiently at a target.
Using the instructions in the video, you can turn a modest slingshot into a large animal killing machine.
If you don't have the time for this weapon conversion, there are bow slings that can be purchased. I suggest adding heavy-duty pull bands and full-size arrows to the purchase.
Full-Size Carbon Filtered Arrows
This type of weapon would be a good addition to your bug out bag or get home bag as it is lightweight and can easily be added to a pack without taking up too much space.