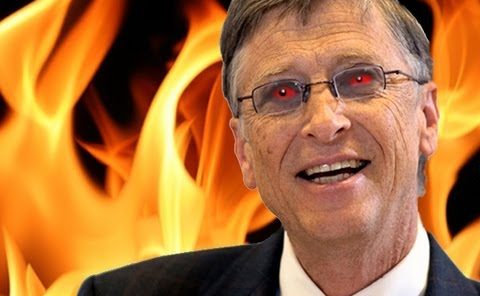 Bill Gates is doing such a good job as a puppet of the central banksters. He's ginning up fear once again, saying another crisis looms, and it'll be more devastating than the COVID-19 scamdemic.
Microsoft's co-founder is changing gears momentarily to panic the masses about climate change. He's now begging the government to address climate change (take away people's remaining rights) with the same "sense of urgency" as it has the coronavirus crisis. If the proper measures aren't taken, he wrote in a blog post this week, then the impact could be far more devastating.  That's globalist speak for "if you don't let us control, track, trace, monitor your every movement, and enslave you, the world will catch on fire."
"As awful as this pandemic is, climate change could be worse," he wrote. "If you want to understand the kind of damage that climate change will inflict, look at COVID-19, and spread the pain out over a much longer period of time. The loss of life and economic misery caused by this pandemic are on par with what will happen regularly if we do not eliminate the world's carbon emissions," Gates wrote according to a report by Market Watch. 
"The key point is not that climate change will be disastrous," he said. "The key point is that, if we learn the lessons of COVID-19, we can approach climate change more informed about the consequences of inaction, and more prepared to save lives and prevent the worst possible outcome. The current global crisis can inform our response to the next one."
Gates claimed that within the next 20 years, the devastation from climate change could be as bad as having a COVIVD-19 plandemic every decade. If he means the devastation (which was planned well in advance) caused by ruling classes worldwide? Because the virus itself is negligible when it comes to mortality.
Remember, this will not end until we stop allowing other humans to have power over us. They will push us into slavery and that's the goal.
Greg Mannarino: It's Critical To Understand That The Goal Is "Full Control By The Federal Reserve"