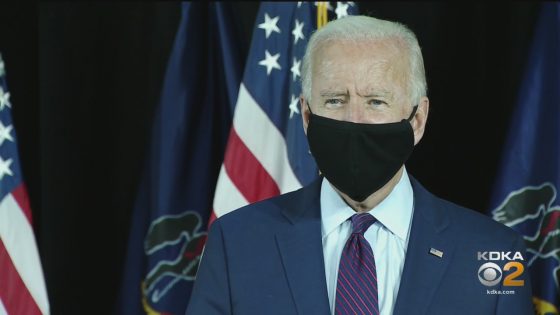 Joe Biden is claiming that rolling up your sleeve willingly on command of the ruling class and obeying their orders to get "vaccinated" with the experimental gene therapy is the "patriotic" thing to do. He wants everyone to do their duty and take the jab to help fight the hoax scamdemic they continue to push.
In a tweet on dependence day yesterday, after hearing the news that his "vax goal" was not met, Biden took to the social media giant to encourage everyone to take the shot.
If you haven't gotten vaccinated, please do it now. It's the most patriotic thing you can do.

— President Biden (@POTUS) July 4, 2021
He also spoke the words in a speech yesterday. "My fellow Americans, that's the most patriotic thing you can do, so, please, if you haven't got vaccinated, do it now: for yourself, for your family, for your community, and for your country," Biden said, speaking from the south lawn of the White House on Sunday according to a report by RT.
Biden has also credited his administration for getting the US economy back on track, claiming that it was "roaring back" from the days when most of the country was plunged into lockdowns and Americans had their freedom of movement severely restricted by stay-at-home orders. He completely left out the part where it was the rulers who commanded the slaves to stay home and give up their businesses and livelihoods so they could push this scamdemic and a gene therapy on the public.
"We're seeing record job creation and record economic growth – the best in four decades and, I might add, the best in the world," Biden said, addressing a 1,000-strong crowd gathered at the lawn. Biden also argued that persuading as many Americans as possible to get the jab is the only way to combat the Delta variant of the virus, which is considered to be multiple times more infectious than previous mutations, and to "protect the hard-won progress we've made."
And of course, none of this is about the "delta variant." It's about getting people injected. The propaganda push using the delta variant as a scare tactic began a few weeks ago as those willing to take the shot dwindled.
A Washington Post-ABC News poll, released on Sunday, found that only 45% of Republicans have received at least one Covid-19 vaccination dose, while 86% of Democrats have already done so. A total of 29% of Americans say that it's unlikely they get vaccinated, among them 47% of Republicans and 6% of Democrats. Biden's vaccination campaign, which fell short of the 70% vaccination rate goal set for Independence Day, is hindered not only by the pushback from conservatives. The same poll showed that about 35% of independents say they are unlikely to get the jab either. –RT
Remember to take every piece of statistical data from the ruling class with a grain of salt. Their numbers could be wildly inflated as a way to say "see? Everyone is jabbed around you and they are all fine. The side effects are rare!" Or, they could be telling the truth and there are far more gullible people in this country than anyone could have ever imagined.
Continue to use your discernment and critical thinking. We are not free. We have not been free since long before this scamdemic, but now the veil is lifted and people are starting to see the facade and illusion of freedom falling to the wayside.  When this happens in larger numbers, they will likely try to pull something else off to keep people in a mental prison locked by fear for as long as possible. So continue to remain alert and aware of what's going on and keep preparing for anything you can.