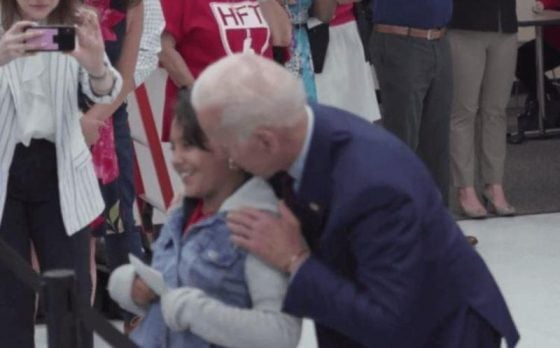 Former vice president and presidential candidate, Joe Biden made a campaign stop at a Middle School in New Hampshire.  It's safe to say that the Democrat's rally didn't go as planned, as people yelled things like "don't touch kids, you pervert!" at the former VP.
The Sunday event, which was held at the gymnasium of a New Hampshire middle school, was interrupted by two protesters, who assailed "quid pro Joe" with accusations of being a "pervert" and making money in Ukraine.  It is ironic that Biden and his son profited from the Ukraine deal while Trump is being punished for it…
Creepy Joe Biden Insists We Should Trust His Corrupt Son, Hunter
Joe Biden Says Hunter "Did Nothing Wrong" While Sitting On Board Of Ukrainian Gas Company
According to a report by ZeroHedge, one man shouted: "You've touched kids on video, and women!" The man added: "We don't need another old white man running for president – time to have a minority candidate," to which Biden – who likely didn't hear the guy, said "I agree with ya man. I agree. Nice talkin' with you."
Irrefutable Evidence: 10 Videos That Show Creepy Joe Biden Touching Women Inappropriately
"You don't touch kids ever again!" The man continued saying: "Don't touch kids, you pervert!" to which Biden only shook his head.
The rally further descended into chaos when things turned toward the Ukraine corruption committed by Biden and his son, Hunter.
WATCH: Another man in the back of the room shouts at Biden, asking how much he made in Ukraine.
Biden fired back: "I've released 21 years of my tax returns, how many has yours? What's he hiding?"
A few minutes after this exchange, someone in the crowd behind Biden collapsed.
2/2 pic.twitter.com/rJIBK49uGJ

— Allie Raffa (@AllieRaffa) December 30, 2019
https://twitter.com/alx/status/1211445014951288837?ref_src=twsrc%5Etfw%7Ctwcamp%5Etweetembed%7Ctwterm%5E1211445014951288837&ref_url=https%3A%2F%2Fwww.zerohedge.com%2Fpolitical%2Fdont-touch-kids-you-pervert-bidens-middle-school-gymnasium-rally-melts-down-chaos
As ZeroHedge pointed out, on the bright side, Joe was able to avoid calling either of them fat or "damn liars."
"Creepy" Joe Biden Tells 10-Year-Old Girl: "I'll Bet You're As Bright As You Are Good Looking"