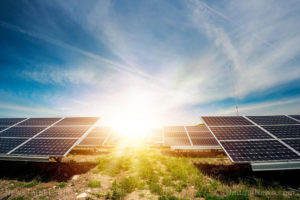 Joe Biden ordered emergency measures on Monday to boost crucial supplies to United States solar manufacturers. He also declared a two-year tariff exemption on solar panels from Southeast Asia in an attempt to jumpstart progress toward his climate change-fighting goals.
His invoking of the Defense Production Act and his other executive actions come amid complaints by industry groups that the solar sector is being slowed by supply chain problems due to a Commerce Department inquiry into possible trade violations involving Chinese products.
Word of the White House's actions caused solar energy companies to gain ground on Wall Street, according to a report by The Associated Press. 
When the White House press secretary was asked if Biden's pause in tariffs was not a gift to China, Karine Jean-Pierre said he was invoking the Defense Production Act, "to make sure that he's delivering for the American people." "He is putting the full force of the federal government behind supporting American clean energy producers," Jean-Pierre said.
What Americans really need is some relief at the pump. Not faulty solar panels that cost tens of thousands of dollars.
"The president's emergency declaration ensures America's families have access to reliable and clean electricity while also ensuring we have the ability to hold our trading partners accountable to their commitments," Commerce Department Secretary Gina Raimondo said in a statement.
A state of emergency declaration is normally not about what it looks like on the surface. When the coronavirus scamdemic was declared a national emergency, the ruling class gave itself the power to inject the masses with whatever they wanted. This is likely cover for something else. It could be to monitor and track everyone's "carbon footprint" or it could mean they intend to tax all carbon. It's tough to say until more information comes out.
The Defense Production Act lets the federal government direct manufacturing production for national defense and has become a tool used more commonly by presidents in recent years. The Trump administration used it to produce medical equipment and supplies during the early stages of the coronavirus pandemic.
The rulers do not do things to help anyone but themselves. That should be more than apparent by now. They care to congeal their power over others. It's time to let go of the illusion of freedom. After all, the COVID emergency declaration was made by Donald Trump. As long as the left vs. right paradigm lie is still offering an illusion to the masses, and they don't realize that government (all government) is slavery, we will be serving masters instead of living in freedom.