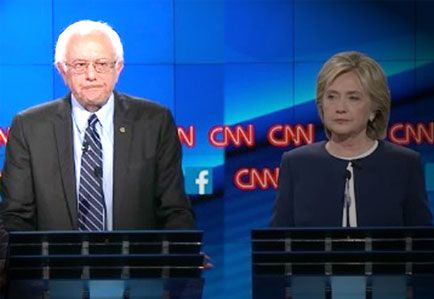 Perhaps now we know what was behind the timing of the most recent scandal for Bernie Sanders – concerning improper access to a Democratic database by members of staff.
Ahead of the Democratic debates coming up this Saturday, it seems that Sen. Sanders is now planning to take Hillary to the woodshed over all the destruction and mayhem that she caused during her stint as Secretary of State.
The Madam Secretary was a driving force in the overthrow of Gaddafi in Libya and the attempt to oust Assad in Syria, as well as many of the Arab Spring events including Egypt. Hillary's Department of State was also instrumental in fueling the rise of "rebel groups" opposing these regimes who proved to be anything but "moderate" and instead, led have overlapped with ISIS and other terrorist organizations now plaguing the region.
Bernie Sanders has now accused Hillary over her role in the rise of ISIS, and intends to point out her dangerous and disqualifying flaws in the course of his campaign.
The London Guardian reports:

Bernie Sanders has accused Hillary Clinton of encouraging Islamic extremism in Libya, in a prelude to a Democratic debate on Saturday during which he is expected to go on the attack for the first time over the unintended consequences of the former secretary of state's more interventionist foreign policy.

[T]he senator from Vermont criticised Clinton for carelessly fomenting regime change in Libya "without worrying" about the ensuing instability that has helped Islamic State forces take hold in the country.

"Regime change without worrying about what happens the day after you get rid of the dictator does not make a lot of sense," Sanders said.

"I voted against the war in Iraq … Secretary Clinton voted for that war. She was proud to have been involved in regime change in Libya, with [Muammar] Gaddafi, without worrying, I think, about what happened the day after and the kind of instability and the rise of Isis that we have seen in Libya."

Clinton has previously defended her role in airstrikes against Gaddafi in 2011, arguing he was a "murderous dictator … who had American blood on his hands" and there was pressure for US action from European and Arab allies.
Hillary is, of course, infamous for her indifferent cackling about the death of Gaddafi, which she tacitly admitted to having "something to do with":
Less famous is the moment Hillary laughed and cackled through a conversation about 'taking out Iran' with former Secretary of States James Baker III and Charlie Rose (see a two minute excerpt here).
Perhaps this has something to do with the real reason why Bernie Sanders is saying that the DNC is 'trying to sabotage his campaign.' Well, that, and the fact that Sanders has become a real threat to Hillary in Iowa.
Here's what a Bernie Sanders campaign official said in a press conference today:
According to Politico:
Bernie Sanders' campaign on Friday threatened to sue the Democratic National Committee for suspending its access to the national voter database, saying the move threatens to undermine the Vermont senator's presidential run.

Even as the campaign admitted its staffers had inappropriately reviewed and saved Hillary Clinton campaign data made available as a result of a software error, it emphatically accused the DNC of sabotage and of blatantly favoring Clinton.

"We are announcing today that if the DNC continues to hold our data hostage, and continues to try to attack the heart and soul of our campaign, we will be in federal court this afternoon seeking an immediate injunction," Sanders' campaign manager Jeff Weaver said at a press conference Friday afternoon, on the eve of the third Democratic debate.

"The leadership of the Democratic National Committee is now actively attempting to undermine our campaign. This is unacceptable," he said. "Individual leaders of the DNC can support Hillary Clinton in any way they want, but they are not going to sabotage our campaign — one of the strongest grassroots campaigns in modern history."

[…] [I]t means he temporarily loses access to critical voter data just weeks before voting is set to begin in Iowa and New Hampshire, where he is within striking distance of Clinton. Without access to the voter file, on-the-ground organizing will become far more difficult for Sanders.
Hillary and the Clinton machine, for their part, have never reacted well to criticism and often dealt very harshly with their accusers and detractors. Hillary's closest and most infamous aide, Huma Abedin, is also related to members of the Muslim Brotherhood, a powerful political group that has been linked repeatedly to jihadi terrorism.
Bernie has avoided direct attacks on Hillary up until this point, and went so far as to give her an out on the email scandal during the first prime time debate.