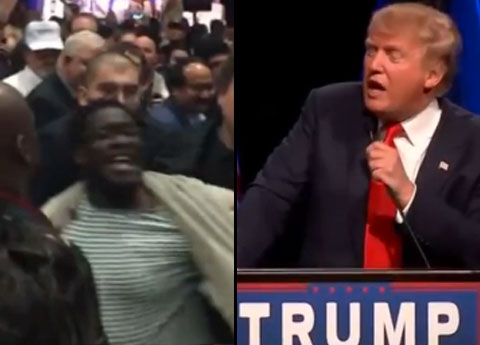 Just before last night's GOP debate, a rally for Donald Trump in Las Vegas – where the debates where held – appeared to go over the edge.
It seems that a 'Black Lives Matter' protester attempted to interrupt The Donald's speech with some points of his own, before being dragged out of a packed house by security.
But it was on the way out that the unidentified protester was threatened by a raging crowd, with some even calling for the man's death.
Video shows the man sitting on the ground to avoid removal, while shouting something about the First Amendment, telling security to 'get your hands off me.'
It was at this point that some members of the crowd were caught on tape calling to "light the motherf@*ker on fire."
With the dirty tricks and nasty politics of this cycle, there's no way to know if these were legitimate Trump supporters, or plants looking discredit the front runner's bid for the White House.
And about ten minutes into the Trump rally, this happens. pic.twitter.com/65pXHjsJ3x

— McKay Coppins (@mckaycoppins) December 15, 2015
Reports also claim that some Trump supporters were heard shouting the Nazi salute 'Sieg Heil' and calling for the man's death in other terms:
Things shouted as Black Lives Matter protestor dragged away at Trump rally: "Kick his ass!" "Shoot him!" "Bitch!" "Sieg Heil!" — Benjy Sarlin (@BenjySarlin) December 15, 2015
Is this the voice of the post-Nixon "great silent majority," or is this the next frame up to try to drag down Trump's unwavering and unprecedented support by any means necessary?
The spin of this incident is clear enough:
@BenjySarlin @KatyTurNBC Wow! This is Trumps Amerikkka. His supporters are as vile as he is.

— kim (@nanakim07) December 15, 2015
But how differently would it have been played if the supporters were for Hillary, or any other establishment candidate.
Meanwhile, here are some highlights from a debate that was so focused on Trump, that even most of the questions from moderator Wolf Blitzer included Trump's name before asking other candidates to respond to his statements or positions: