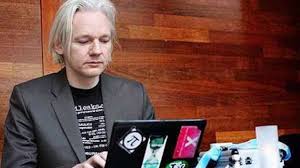 A new battle has broken out over who gets access to Julian Assange's computer in the aftermath of the journalist's arrest. Wikileaks says Assange took the time to scrub his computer before he was taken into custody, meaning anything found on it would be "false evidence" and planted by the United States government.
At the request of the U.S. government, Ecuadorian authorities took possession of all of Assange's possession after his arrest. Wikileaks editor-in-chief Kristinn Hrafnsson told The Associated Press that because Assange cleared the computers, any information found on them will be put there by the U.S. or Ecuadorian authorities. "If anything surfaces, I can assure you it would've been planted," he said.
The U.S. is attempting to extradite Assange on charges of "computer hacking" and Sweden has also re-opened its investigation into rape claims against Assange first made in 2010. This means British authorities may have to decide whether to prioritize the US or Swedish claims first. After Assange serves his 50 weeks in a British jail for "breaching bail conditions."
https://www.shtfplan.com/headline-news/why-everyone-should-be-outraged-at-assanges-arrest_04232019
"Julian isn't a novice when it comes to security and securing his information. We expected this to happen and protections have been in place for a very long time," Hrafnsson said. Wikileaks' future plans were among information scrubbed from the computer. "Ecuador granted him asylum because of the threat of extradition to the U.S. and now the same country, under new leadership, is actively collaborating with a criminal investigation against him," Hrafnsson added of the handling of Assange's possessions by Ecuadorian authorities, according to Business Insider.
Hrafnsson said that Assange predicted that his arrest was imminent as Ecuador's current president, Lenin Moreno, had exhibited less support for Assange than his predecessor, Rafael Correa, who had granted Assange asylum. He accused Moreno of following the US in light of its financial assistance to Ecuador.
Moreno decided to evict Assange from the embassy after accusing him of working with political opponents to hack into his phone and release damaging personal documents and photos, including several that showed him eating lobster in bed and the numbers of bank accounts allegedly used to hide proceeds from corruption.

Moreno's actions immediately were celebrated by the Trump administration, which was key in helping Ecuador secure a $4.2 billion credit line from the International Monetary Fund and has provided the tiny South American country with new trade and military deals in recent weeks. –The Associated Press
"The Americans are the ones pulling the strings, and Moreno their puppet dancing to the tune of money," said Hrafnsson.
"One of the best ways to achieve justice is to expose injustice." ― Julian Assange