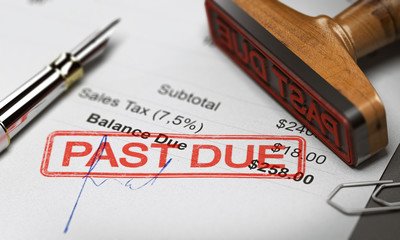 Even though the unemployment rate is historically low, delinquencies on automobile loans have spiked to levels not seen since the 2009 Great Recession.  People are increasingly failing to make payments on their vehicle loans and a horrifying number of those delinquent on their car are over 90 days past due.
Serious auto-loan delinquencies (those 90 days or more past due) jumped to 4.69% of outstanding auto loans and leases in the first quarter of 2019, according to New York Fed data. This put the auto-loan delinquency rate at the highest level since Q4 2010 and merely 58 basis points below the peak during the Great Recession in Q4 2010.
Delinquencies are at crisis levels, but the unemployment rate remains low.  Perhaps people are simply buying cars they can't afford.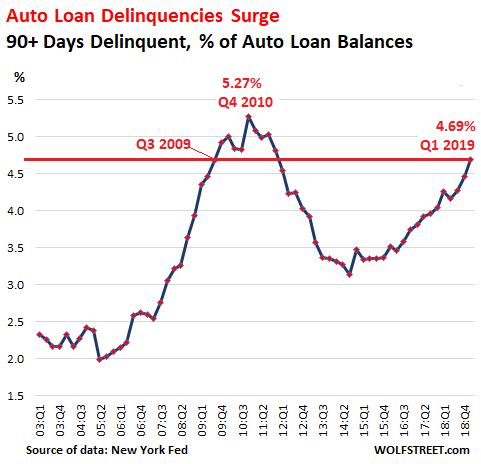 In the first quarter of 2019 (Q1), total outstanding balances of auto loans and leases rose by 4% from a year ago to $1.28 trillion. This amount by the New York Fed is slightly higher than the amount reported by the Federal Reserve Board of Governors as part of its consumer credit data. Over the past decades, since Q1 2009, total auto loans and leases outstanding have risen by 65%. That's a massive amount of debt hanging over the heads of Americans.
What is bad news, is the number of auto-loan accounts has risen only 34% over the decade, to 113.9 million accounts in Q1 2019. That means that what caused much of the increase in the auto-loan balances is the ballooning amount financed with each new loan, negative equity rolled into a purchase and longer loan terms. This all causes borrowers to stretch out their payments on those loans keeping them on the books longer.
This ballooning auto loan debt is becoming an increasing problem for those sub-prime borrowers. 4.69% or $60 billion worth of car loans are seriously delinquent, meaning no payment has been made for more than 90 days.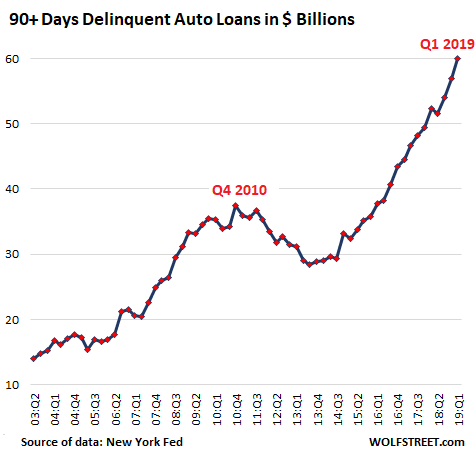 There's more bad news too. As we trek through 2019, there are more loans going delinquent. As this is being written, there are loans going into delinquency. As they become seriously delinquent in Q2, and the next batch in Q3, and so on, and this is working itself forward wave after wave. So the cumulative losses over the next two years are going to be pretty high.
This isn't happening during a recession with millions of people losing their jobs and defaulting on their auto loans because they lost their main source of income. This is happening during one of the strongest labor markets in many years. It's happening when the economy is growing at around 3% a year. It's happening in good times. And people with jobs are defaulting.
So what's really going on? Aggressive lending is one problem, however, Americans are simply living above their means.  Once people become personally responsible again, there won't be a need for sub-prime loans, because Americans will be intelligent enough to not borrow money under those terms.