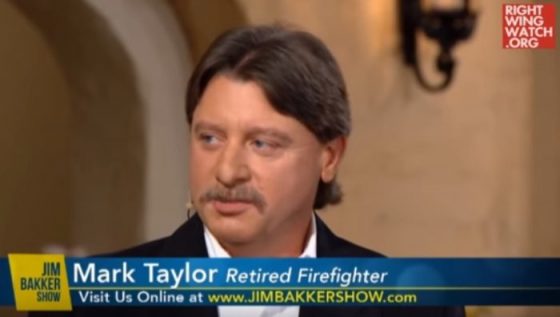 Mark Taylor, the author of The Trump Prophecies, claims God revealed two new prophecies to him, and he's sharing them publicly.
Taylor predicted Donald Trump would win in 2016. He also said after that historic win, "there would be military style tribunals" to prosecute massive crimes in Washington, D.C. With recent revelations of widespread corruption at the FBI and DOJ, could Taylor soon have his second prophecy proven correct? In an interview with USA Watchdog's Greg Hunter, Taylor explained that prediction.
"The whole push right now is people are screaming 'release the memo, release the memo.'  When you have Congress that has read the memo, and they are saying this is going to be a nuclear bomb, that's bad.  It's worse than most people would think.  I have been on record for the last year, year and a half saying that when this stuff starts to break, they are going to have to be careful how they handle this because this could take down parts of government. . . . One of the objectives for the 'Army of God' is to start praying now because when they serve these arrest warrants and start rounding these people up, there could be some civil unrest.  It's up to us to blaze a trail in the spiritual so it doesn't manifest in the natural. . . . We are on the precipice or the cusp of all this taking place.  When they release that memo . . . I am not saying there will be civil unrest because it's our job to pray against that stuff, but there could be some hot spots in some areas of the country.  We  just need to be prepared for some of this stuff because we are crossing a threshold in this country where we have never been before.  I said a long time ago this is going to go global.  It's not just America that is involved in this stuff.  You are going to see other countries involved. . . I think the pin has been pulled on the grenade, and this thing is about ready to explode."
Hunter then asks Taylor's take on the mainstream media and the obvious desire those people have to cover up this scandal.
"The mainstream media is…corrupt. They can't be trusted first off. They're in the pockets of the globalists.  They're being told what to do, they're being told what to say. It's scripted out. It's a known fact thet they've got scripts that they send to each one.  From my understanding…there's actually CIA operatives assigned to the mainstream media.

It's psychological warfare. They know how to do this where they are manipulating the people. They are decieving the people.

I just know that God's gonna clean out the news media, and the news media's gonna take a hard hit. At some point, the spirit of truth will come back to the news media."
Taylor's first new prophecy revolves around the national debt. He goes on to say that Trump's decreased regulations of the oil and gas industry will help slay the debt.
"There could be many things that will slay the debt, but one of the things that kills the debt or slays the debt will be oil. The energy boom that is fixing to take place right now in this country is like nothing we have ever seen in the history of our country.  The energy is fixing to explode.  Here's what they are not reporting on mainstream media. . . . All of these oil rigs went to . . . all these other places under the Obama Administration because he had the permitting locked down so tight.  Trump has released the drilling rights and given the permits out. . . . All these rigs that have gone overseas, they are picking up all their equipment and drilling rigs and are on their way here, as we speak.  We are fixing to have an oil boom and an energy boom that has never been seen before . . . and I believe that is what actually slays the debt.

That's basically [the prophecy] in a nutshell, right there."
But Taylor has yet one more prophecy he reveals to Hunter in the interview. "It's called 'The Evil Crew of 32," says Taylor. He then speaks of repenting and asks the leaders of churches and the United States to understand that this message is for them.
"The spirit of God says 'two will be taken and three will be shaken. While I will remove two from the evil crew of 32, and the other three shall be shaken to the core. The 32 years they have altogether served and empowered that entity called Bael, and the covenant they had holding up this house with the Illuminati and the New World Order shall come crumbling down. For when the first one is taken, it will be a sign that the New World Order shall die. When the second one is taken, it will be a sign that anyone calling himself 'mine' but comes against my Israel, sympathizing with their enemies will not be tolerated. The three that will be shaken will be a sign that no one is above the most high God, not even those that hold the highest offices in the land.

Yes, even the Supreme Court will be shaken. Do not fear, America, when you see these things manifesting, for these things must come to pass. I will clean up the darkness and it will usher in my light. For I have America in my hand."
The 32 represents the 32 years the five former living presidents of the United States served as "leaders." Taylor's prophecy is interesting, to say the least – take from it what you will, but he says two will be removed from the face of the earth and the other three will be "shaken."