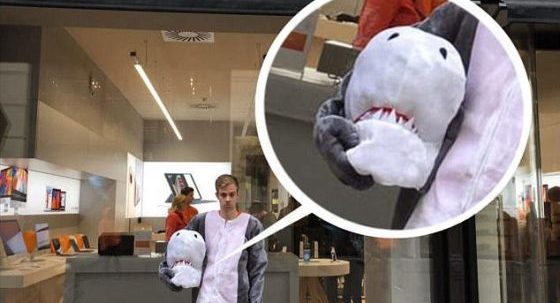 A man dressed as a shark was arrested in Austria and officials cited the countries Burka ban.  The man was working as a mascot for a McShark electronics store in Vienna when the arrest occurred.
New restrictions came into effect in Austria at the beginning of the month banning the wearing of the full Islamic veil and other items concealing the face in public places and buildings. This ban extends to medical masks and scarves as well, making the shark costume an obvious "no-go." The restrictions are aimed at "ensuring the cohesion of society in an open society," according to officials, and violations will be punished with a fine of up to €150. Even though the wording of the law was meant to be religiously-neutral, there is still a grey area in which Austrians appear to be exploiting in order to make a point.
When the police saw the young man in the shark costume, he was asked to remove it. The employee protested saying he was "just doing his job," so the police arrested him and slapped him with a fine.  Apparently, the man in the shark suit was reported to police by a member of the public who wanted to make a point of the new piece of legislation. The McShark electronics company is now reviewing its policy on using mascots to ensure they comply with the new law.
The advertising agency Warda Network, who was at the McShark opening, wrote on its Facebook page. "Today we were at the McShark store opening and our shark mascot received a fine from the Vienna police because of the new ban on face-coverings. Life is not easy." Elsewhere in the Austrian capital, a cyclist was said to have been arrested and fined for wearing a scarf over her face, according to local media.
According to the Daily Mail, in passing the new legislation, officials in Vienna said, "Acceptance and respect of Austrian values are basic conditions for successful cohabitation between the majority Austrian population and people from third countries living in Austria." The new laws also apply to visitors, even though many tourists in the country are from Arab nations.
Other measures which went into effect on October 1 include immigrants being forced to sign an "integration contract" and compulsory courses in the German language and "values."