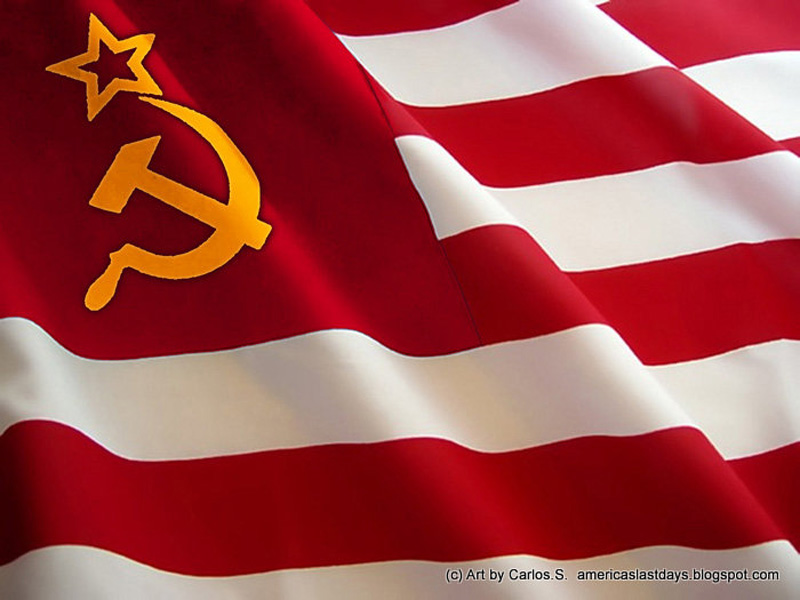 (Image Credit: Americas Last Days)
Parents and educators are outraged over an electronic curriculum system being used in Texas public schools after a recent classroom assignment called for students to design a flag for a new socialist/commuist nation.
A lesson plan for 6th graders reads as follows:
Notice socialist/communist nations use symbolism on their flags representing various aspects of their economic system. Imagine a new socialist nation is creating a flag and you have been put in charge of creating a flag. Use symbolism to represent aspects of socialism/communism on your flag. What kind of symbolism/colors would you use?
The CSCOPE curriculum is used in 875 school districts across Texas. At a recent Texas Education Committee meeting, Senators and witnesses questioned the effectiveness of the program used as a primary tool to educate millions of impressionable minds.
Committee Chairman Dan Patrick, R-Houston, called it "a mess."

One witness compared the system to "mind control," and an algebra teacher wept as he described quitting because he felt he was "aiding and abetting a crime" by using CSCOPE in his classroom.

…

A string of witnesses before the Senate Education Committee criticized the program for promoting liberal values they said are anti-Christian at best and openly socialist at worst.

They also complained that it is hard for nonteachers to get a look at the program.

"Discontent is rampant across the state," said Peggy Venable, a frequent critic of public schools and the Texas director of Americans for Prosperity.

Source: Ft. Worth Star Telegram
There exists a double standard within the halls of the American indoctrination centers we refer to as public schools.
A hearing impaired three year old was recently suspended for violating a school weapons policy because the hand sign for his name resembled a gun. Just a few weeks ago, a six year old was expelled from a Texas school when she brought a pink bubble gun to school for show and tell. Administrators justified the expulsion by claiming that her actions constituted a "terroristic threat."
Fundamental bedrock American principles protected under the US Constitution, such as the right to bear arms, are vilified by our government sponsored education system.
Yet, promoting Communism, a system responsible for the democide of hundreds of millions of people over the last century (ironically, by way of the gun) is perfectly acceptable.
Children most certainly need to be taught about the dangers of socialism and communism, but our education system needs to use some common sense when doing so.
How many of the educators giving this assignment to their students mentioned the fact that the economics of Communism leads to strife and loss of liberty? That the laws within those systems are implemented through violence and much suffering?
How many of them explained that the only way to prevent such systems from taking hold is to have an armed populace that can fight back against the tyranny?
This is what we're up against in America today. Sixty years ago we were holding Congressional hearings in an effort to identify Communists in this country.
Today, we're electing them to the highest of political offices.