This article was originally published by Michael Snyder at The End of the American Dream.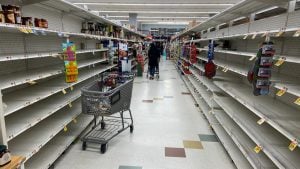 They keep telling us that everything is going to be just fine, but an increasing number of Americans are beginning to realize that what we are facing is not "temporary" at all.  From coast to coast, store shelves have been getting emptier and emptier, and supply chain experts are warning us that things aren't going to be getting better any time soon.
But Biden administration officials continue to smile and insist that they have everything under control.  Do you believe them?  At this point, I don't know why anyone would still believe that they are capable of handling any major problem after what we have witnessed in Afghanistan, at the southern border, etc.
Just last week, Biden promised that he was going to work really hard to turn this crisis around, but it just continues to escalate.   As we head toward the winter months, we are seeing unprecedented shortages all over the country…
Shortages of virtually every type of product – from toilet paper and sneakers to pickup trucks and chicken – are showing up across the country. Looking for a book, bicycle, baby crib, or boat? You may have to wait weeks or months longer than usual to get your hands on it.

I recently visited my local ski shop and they had hardly a boot, ski, goggle or pole to speak of – two full months before ski season begins. The owner said he's normally close to fully stocked around this time of the year.
In an attempt to hide the true scope of the problem, some retailers have started to find creative ways to cover up their bare shelves…
As the situation worsens, stores have attempted to literally cover up their shelves.

One eerie video posted to social media showed numerous rows of colourful folding lawn chairs set up along empty shelves in a department store.
Do they really think that this is fooling anyone?
We are at the edge of the precipice. The "pretending it's fine" aspect of the charade evokes a deep terror pic.twitter.com/sNvfHVyiwx

— Keque (@KequeMage) October 19, 2021
One Twitter user joked that the chairs are for us to use as we wait in "the bread lines"…
One person joked in reply, "Those are chairs for us to sit in and enjoy the bread lines."

Another wrote, "Watched this kinda stuff happen in Venezuela. Warned people about it. They started taking the same choices Venezuela once made and we know where that got Venezuela. US seems no different."
Sadly, this is no laughing matter.
We really are turning into Venezuela a little bit more with each passing day, and there is only so much that they can do to try to maintain the charade.
Our Safeway appears to be trying to hide the supply shortage by using single lines of products to fill shelves. Leading to this: pic.twitter.com/CDXR67FYRu

— Ashe Short (@AsheSchow) October 21, 2021
One of the things that is causing this supply chain crisis is a severe lack of workers.
When this worker shortage first started to emerge, a lot of people blamed generous unemployment benefits, and that seemed to make sense to a lot of people.
But now we are learning that those enhanced benefits really didn't make that much of a different at all…
Earlier this year, an insistent cry arose from business leaders and Republican governors: Cut off a $300-a-week federal supplement for unemployed Americans. Many people, they argued, would then come off the sidelines and take the millions of jobs that employers were desperate to fill.

Yet three months after half the states began ending that federal payment, there's been no significant influx of job seekers.
Today, employers are dramatically raising wages, giving out huge signing bonuses, offering to pay for college, and even waiving drug testing requirements in a desperate attempt to lure people back to work.
But even with all that, the number of people working in the U.S. is still about five million less than the peak that we witnessed just before the pandemic hit.
So where did all the workers go?
As I have detailed in previous articles, this is something that is happening all over the planet.
There are epic worker shortages in Asia, Europe and North America.
There are epic worker shortages in poor countries and rich countries.
Everywhere you look, there aren't enough people to do the basic jobs that need to be done.
So where did all the people go?
Here in the U.S., Joe Biden's absurd mandates are about to make the worker shortages even worse…
A trade group for air cargo giants like UPS and FedEx is sounding the alarm over an impending Dec. 8 vaccine deadline imposed by President Joe Biden, complaining it threatens to wreak havoc at the busiest time of the year — and add yet another kink to the supply chain.

"We have significant concerns with the employer mandates announced on Sept. 9, 2021, and the ability of industry members to implement the required employee vaccinations by Dec. 8, 2021," Stephen Alterman, president of the Cargo Airline Association, wrote in a letter sent the Biden administration and obtained by POLITICO.
Why would he pull a stunt like this in the middle of the worst worker shortage in our history?
Is he insane?
Biden and his minions know that the mandates are going to make the supply chain crisis even worse, but they are pushing ahead anyway.
So the shortages are going to intensify, and that is hard to imagine because things are already really, really bad.
Many believe that the mandates will make our problems significantly worse as we head into 2022,  and in the short term the executive director of the Port of Long Beach is openly warning us that headaches at his port "are going to continue to the end of the year"…
The executive director of the Port of Long Beach, the largest container port in the US, told Bloomberg Thursday that Americans should buy their holiday gifts now as congestion continues to snarl supply chains.

"Shop early because these delays and bottlenecks are going to continue to the end of the year," Mario Cordero, the port's executive director, said during an interview with Bloomberg Television.
Unless there is some sort of a miracle, 2022 is going to be a very rough year, and the American people are going to become increasingly restless.
So what happens if another wave of the pandemic causes widespread global lockdowns, or if a new pandemic erupts, or if a major war begins?
There are so many potential things that could go wrong, and any large scale disruption would take our supply chain crisis to an even more extreme level.
I am deeply, deeply concerned about the year ahead, and the people that are running things appear to be completely and utterly clueless.
***It is finally here! Michael's new book entitled "7 Year Apocalypse" is now available in paperback and for the Kindle on Amazon.***
About the Author: My name is Michael Snyder and my brand new book entitled "7 Year Apocalypse" is now available on Amazon.com.  In addition to my new book, I have written five others that are available on Amazon.com including  "Lost Prophecies Of The Future Of America", "The Beginning Of The End", "Get Prepared Now", and "Living A Life That Really Matters". (#CommissionsEarned)  By purchasing the books you help to support the work that my wife and I are doing, and by giving it to others you help to multiply the impact that we are having on people all over the globe.  I have published thousands of articles on The Economic Collapse Blog, End Of The American Dream, and The Most Important News, and the articles that I publish on those sites are republished on dozens of other prominent websites all over the globe.  I always freely and happily allow others to republish my articles on their own websites, but I also ask that they include this "About the Author" section with each article.  The material contained in this article is for general information purposes only, and readers should consult licensed professionals before making any legal, business, financial, or health decisions.  I encourage you to follow me on social media on Facebook and Twitter, and anyway that you can share these articles with others is a great help.  During these very challenging times, people will need hope more than ever before, and it is our goal to share the gospel of Jesus Christ with as many people as we possibly can.