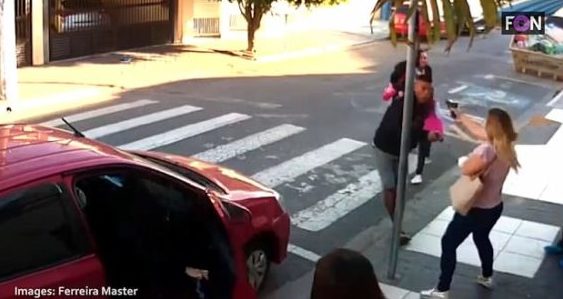 Proving that there is such a thing as a "good guy (in this case, gal) with a gun," a mother in Sao Paulo, Brazil foiled the robberies of unsuspecting parents at a school.  The woman was an off-duty policewoman carrying her gun near school grounds and stopped the bad guy.
Dramatic school security footage shows a suspect named as Elivelton Neves Moreira, 21, approaching the crowd with a gun outside a private school in Sao Paulo.  But it's safe to say Moreira wasn't expecting one of the mothers to be armed as well.
Off-duty military police officer Katia da Silva Sastre, 42, pulled out her own weapon and unleashed three shots on the would-be assailant. The video shows Moreira, who later died in hospital of the gunshot wounds he sustained, fall backward and clutch his chest before Sastre shoves him on to his front with her foot having thrown her handbag aside on Saturday morning.
Officer Sastre is being hailed a hero for her act of bravery and was honored in a ceremony by Sao Paulo Governor Márcio França on Sunday. But it doesn't always work out for the good guys.  Great Britain has even taken to punishing homeowners for defending their own property from armed robbers.
*The following video contains graphic video footage of an armed woman shooting an armed man.  It may not be suitable for all viewers.  Watch with discretion.
Moreira can be seen pointing his gun in the direction of parents and children.  One little girl, in particular, can be seen in a pink vest in the video. Sastre potentially saved the lives of several people with her quick actions and by simply carrying for protection.
The Daily Mail described the turn of events as follows:
Pointing the firearm at the school's security guard and reaching out to grab the man's wallet and phone, the suspect suddenly stopped in his tracks by the officer, who had her gun at the ready after being alerted to the danger by another woman seconds earlier.

Pulling her police-issued weapon from her bag, she loads the gun then reacts with speed, stepping forward and firing off three rounds, shooting the assailant in the chest and leg as he tries to fire back.

The armed man falls backward onto the zebra crossing and releases two shots in the process as he hits the ground. The first one ricochets off the ground hitting no one, and the second jams in the weapon.

Sastre quickly backs away out of the line of fire then goes over to the injured suspect who is rolling around on the ground in agony crying out for help. She kicks away his weapon before picking it up. –The Daily Mail
Sastre, who had gone to the event at the school with her seven-year-old daughter she had no idea what the gunman's plans were. "I didn't know if he was going to shoot the kids or the mothers or the security guard at the school door. I just thought about defending the mums, the children, my own life, and my daughter's," the hero mother said.

Public security secretary, Maggie Alves said Sastre also pushed children out of harm's way. "She pushed the children out of the way and approached the thief. She shoots, the boy shoots, the boy tries to shoot at her leg. She immobilizes the boy and calls the (emergency services). It was a perfect procedure from a technical point of view," said Alves.

Governor Marcio França lamented the fact that the gunman had died was "sad and regrettable." He added: "It is not ideal that the suspect died. We would have preferred this had not happened. But it is a warning to those who take up a gun that they could be killed because our security professionals are well trained to protect the public," he said.

Maybe this story will help liberals understand just why it's so important that gun ownership exists.  Had this off-duty policewoman had not been at the right place at the right time, who knows what would have happened.  Luckily, there are good men and women with guns in the United States to help defend even leftists from thugs.

[DISPLAY_ULTIMATE_SOCIAL_ICONS]