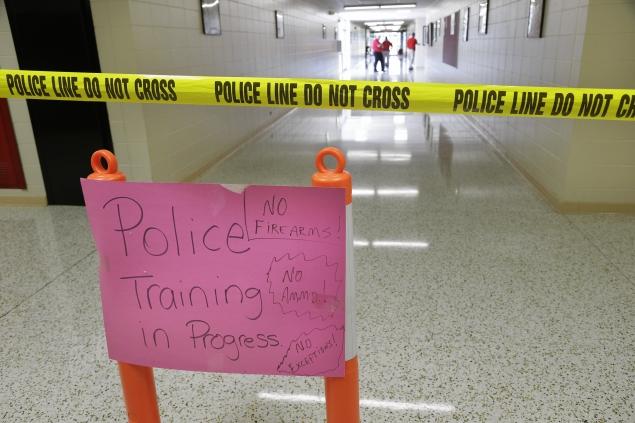 A Clarksville, Arkansas school district, backed by a little-known state law, has begun a rigorous training program so that members of the staff can carry concealed at school.
…more than 20 teachers, administrators and other school employees in this town … will carry concealed weapons throughout the school day, making use of a little-known Arkansas law that allows licensed, armed security guards on campus. After undergoing 53 hours of training, Dougan and other teachers at the school will be considered guards. (source)
Staff members will receive 53 hours of training that is geared towards responding to school shooter scenarios from Nighthawk Custom Training Academy, a private training facility in northwest Arkansas. "That teacher is going to respond to one thing and one thing alone, and that's someone is in the building either actively or attempting to kill people," explained Jon Hodoway, director of training for Nighthawk.
The decision to arm teachers has not made everyone happy. One mother, Sherry Wommack, is removing her son from the school. "I think police officers are trained to make those [life and death] decisions, not teachers." There are other vocal opponents to the decision.
State officials are not blocking Clarksville's plan, but Arkansas Education Commissioner Tom Kimbrell is opposed to the idea of arming teachers and staff. He prefers to hire law enforcement officers as school resource officers.

There are other dissenters, too. Donna Morey, former president of the Arkansas Education Association, called the idea of arming teachers "awful." The risk of a student accidentally getting shot or obtaining a gun outweighs any benefits, she said.

"We just think educators should be in the business of educating students, not carrying a weapon," Morey said. (source)
According to a report on USA Today, the school will be posted with warnings that armed guards are present, but the armed staff members will not be identified and the weapons will be carried concealed.
In recent years, schools have responded to school shootings like the ones in Columbine and Sandy Hook with various kinds of safety and lockdown drills. Not everyone agrees that this is an acceptable plan, and that is why this Arkansas school district decided to arm members of their staff.
Many parents would agree with what Superintendent David Hopkins said when explaining the decision. "The plan we've been given in the past is 'Well, lock your doors, turn off your lights and hope for the best'. That's not a plan."
In the horrible event of a shooter at your child's school, would you feel better if your child was crouching under a desk or being protected by trained, armed staff members?
---
Contributed by Kimberly Paxton of www.TheDailySheeple.com.
This content may be freely reproduced in full or in part in digital form with full attribution to the author and a link to www.TheDailySheeple.com.