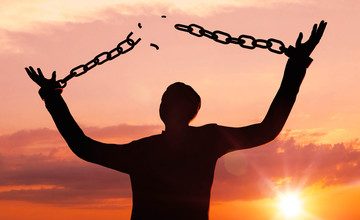 People who understand what is going on know the value of liberty. And yet, the government's message is loud and clear: they do not want you to be free. They demand and desire only your enslavement.
In an incredible video on High Impact Flix, creator Brian details the ways the government has removed the illusion of choice and freedom lately.  "If you don't have freedom, you don't have anything," Brian says.
 If you haven't figured out that the United States government has taken more of your rights and freedom than any other entity ever because you believed they have the authority/power to do so, this is going to be a rough year for you.  The tyrannical veil has been lifted and it's time we all wake up.
"It's freedom over everything, guys!" Brian adds.  Human beings were not meant to be controlled, brainwashed, and manipulated into being slaves to any ruling class whether it's called a democracy, a republic, fascism, communism, or otherwise.  We are sovereign and our birthright is freedom.
The ruling class doesn't actually care if you are on the right or on the left so long as you accept the system of tyrannical enslavement put upon you by those who think they can own everyone alive.
Ruling Class Wants You To "Remain Calm" And "Respect" The Oppressive System They Force You To Live Under
We all need to face the reality of the situation we are in. Humanity has for far too long accepted masters and rulers as an alternative to freedom and liberty thinking we are being kept safe. That illusion and the illusion of choice are all falling away right now.  We are going to have to face the destruction of the system, and yet make sure we don't succumb to even worse enslavement as the rulers attempt to keep their grip on power.
2021 is shaping up to be tough. But it could also be great if we can stand together and simply say "no. We will not comply."
It's up to us.  The longer we hold a belief that some system can make some people the rightful masters and the others the rightful slaves, we will be divided and fight each other while the masters keep and expand their power. The time to wake up was a year ago but now is good too.  The sooner the better.
Here is a video by Jame Corbett and it details the solutions and how we can take our power back from the ruling class and elitists and be free as is our birthright.
Government is slavery. No system can make a rightful master or a rightful slave, not even "democracy" which is little more than mob rule.
Stay prepared, stay alert, stay out of the violent frays being set up to control us, and be ready for anything but make preparations to work toward freedom by leaving the oppressive system.