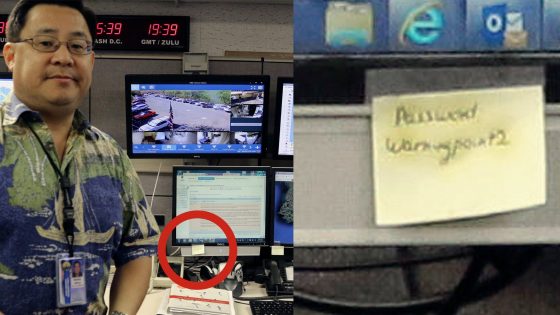 In photo blunder by the Hawaii Emergency Broadcast System, a password was revealed. In a photo released by the agency in July, a password can be seen stuck to a computer with a post-it note in the Hawaii Emergency Management Agency's headquarters in Honolulu.
This government agency went so far as to brazenly display their password.  Media outlet Hawaii News Now reports that the agency's password protection measures are now in the spotlight after a photo from the agency's Honolulu headquarters appeared in news reports. Sharp-eyed readers noticed that a password was on a Post-It note stuck on a computer. Agency spokesman Richard Rapoza says the password was for an "internal application" that is no longer in use, not a "major piece of software."
The agency says the alert was sent was because "an employee pushed the wrong button," not because of a hack, but the photo has still rightly sparked criticism about the agency's level of security. The agency has said a worker clicked the wrong item in a drop-down menu; sent the warning, and that its system was not hacked.
"It was a mistake made during a standard procedure at the changeover of a shift, and an employee pushed the wrong button," Governor David Ige said. But if that truly was the case, it should be closed, right? Yet there's an "ongoing" investigation into the employee who sent the alert.
At the very least, government incompetence is more than evident when looking at this photo.  But not only that, it helps prove to the regular, everyday American citizen that those who should be on the frontlines looking out for the public's well-being don't actually care much.  Like the rest of us, they just want a paycheck.
The emergency warning officer who accidentally sent Hawaii an incoming missile alert has been receiving death threats and is "not doing well," says the executive officer of the Hawaii Emergency Management Agency. Toby Clairmont told the Honolulu Star-Advertiser that the employee, a 10-year agency veteran, has received "dozens of death threats by fax, telephone, social media." The worker, who has been reassigned to other duties, is "distraught that they've received death threats," Clairmont says. "This is hard. What can be worse than this? Running over a child in a crosswalk and you realize you did it? It's that kind of feeling," he says. "This employee is not doing well. We need to help them, too."
This accidental warning caused a massive panic in Hawaii, and people even put children in storm drains.