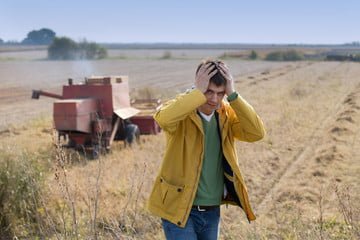 In what can only be described as yet another heavy blow to American farmers, China has suspended all agricultural imports from the United States.  China's decision was in response to an additional 10% in tariffs levied on Chinese goods.
China has confirmed that the Communist country will retaliate against the 10% increase on $300 billion worth of goods shipped to the United States. Reports of China pulling out of U.S. agriculture helped exacerbate fears on Wall Street pushing stocks to their worst day of the year. Now that China confirmed the reports, it could add to pressure on equities, according to a report by CNBC. 
American farmers are already on the edge of survival and the additional tariffs will not only increase the cost of their farming, but China's retaliation will ensure they have a much smaller market to sell their goods. China is one of the largest buyers of U.S. agriculture. Bloomberg News reported that Beijing may stop importing them completely in response to new tariffs by the United States. According to reports by Chinese State media, it would also consider slapping tariffs on U.S. agricultural products that it already bought.
U.S. farming has been a hot-button issue in the ongoing trade war. The president said that he had secured large quantities of agricultural purchases when he met with President Xi Jinping at the G-20 summit in June.
American Farmers Are The Casualties Of The Trade War
Chinese imports of U.S. soybeans have also dropped to the lowest level since 2004. "The leverage that China has is its large agricultural purchases," Darin Friedrichs, a senior analyst at INTL FCStone's Asia commodities division, said in an interview on Bloomberg TV. "This does affect U.S. farmers and the rural U.S. voting base that's normally in support of Donald Trump. If they hit back before the election, that's the obvious way to retaliate."
Considering the tariffs have been paid by American consumers and businesses, not the Chinese government, it seems a good time to take off the partisan blinders and see this trade war for what it really is: a war on the American consumer with retaliation from China that puts the American farmer directly in the crossfire.
The demise of free trade is never a good thing.
The United States was the global leader in promoting free trade until two years ago. President Donald J. Trump calls himself "Tariffs Man" and uses tariffs as leverage in all types of international negotiations. No country has been impacted more than China. The U.S.-China trade war started one year ago, roughly on July 6, 2018, with tariffs and counter-tariffs being imposed on billions of dollars of goods. The situation continues to escalate. Four days later, Trump announced tariffs on $200 billion of additional goods coming from China. One year later, Trump is considering tariffs on the final $300 billion of Chinese goods imported from China.
The Demise of Free Trade: The U.S.-China Trade War Explained