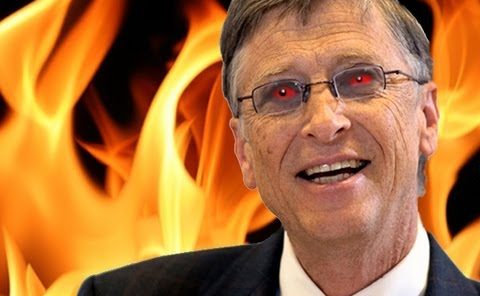 Bill Gates and Andrew Cuomo are the last humans on earth any good parent would want education their children. However, the two have joined forces to mold the minds of our nation's youths, to teach them to obey the ruling class and be good little slaves.
Governor Andrew Cuomo on Friday released the names of educators and others who would advise the state on its new effort with the Bill and Melinda Gates Foundation to "reimagine education" in New York.  If you know anything about Gates or Cuomo, you should know this is an attempt to brainwash our kids into accepting the dystopian society they all want us to willingly submit to.
Sculpting Public Opinion from Birth to Death: "Schools and Media are Completely Complicit in the Destruction of This Nation"
This has drawn some concern from parents and teachers who believe they are the ones who should be involved in their children's education, not the ruling class and wealthy elitists trying to push an agenda.
The list quelled concerns that educators would not be included after the state said it would partner with the Gates Foundation to rethink what virtual education should look like after students, now learning from home during the coronavirus pandemic, go back to school buildings.

It doesn't, however, include any K-12 students or any current teachers, principals, parents, district leaders, or administrators from the New York City Department of Education, the state and nation's largest school system, serving more than 1 million students. –The City, New York City
In order for the elitists to be successful at their attempt at world domination and the permanent enslavement of mankind, they know they need to alter the perception of children. They have been trying for decades and were successful until recently.  Now that children are home with their parents and no longer subjected to the blatant slave propaganda from the public school system, they've begun to ask questions to.  And that's the good news: people are waking up from their slumber to realize they have lived the life of a slave since day one, and no longer wish to do so.
After Brainwashing People For Decades, MSM and Governments Are Losing Control of People
This has become blatant.  The elitists and ruling class are not hiding it anymore.  They demand complete control over everyone and will take as much as they can get.
Goldstein said the governor's office did not reach out to City Hall about participation on the council. The governor's office did not immediately say why no one from the city was included on the list or when this advisory council is expected to start its work. The Gates Foundation declined to comment. –The City, New York City
When Bill Gates is involved, it cannot be good. Add Andrew Cuomo to the mix and you have a recipe for totalitarianism. If you haven't opened your eyes yet, now is a good time.  We don't have much time left before the walls of a dystopian enslavement close around all of us.
The Science of Fear: How The Elitists Use it to Control Us & How to Break Free